John Eustace: Nigel Clough hints at Derby deal for midfielder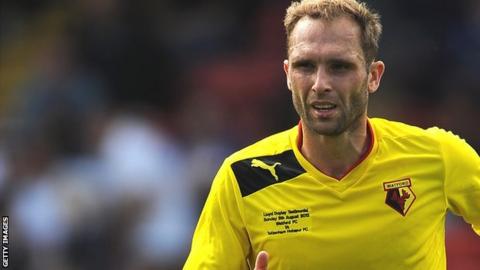 Derby County manager Nigel Clough has strongly hinted that midfielder John Eustace will join on a permanent deal.
The 33-year-old is a free agent after turning down a new contract at Watford and has been training with the Rams.
Eustace was on loan at Derby in 2009 and Clough tried to sign him in 2011.
"He's the sort of character we would like around if possible. He will do two weeks with us. We hope to sit down with him next week - depending on how it goes," Clough told BBC Radio Derby.
"He's a great lad. We knew that from when we had him on loan last time. The only thing he's a bit older then the other lads in the squad!"
Eustace was injured early on last season and only played seven games for the Hornets.
Clough added: "He had a back injury in the first half of the season but he was fit from Christmas onwards just about, but with Watford going so well he didn't play too much.
"He has been fit for the last few months but you do lose a little when you are not playing regular games.
"He has to do pre-season somewhere and has to get fit so it's ideal for him to do it with us. We can look at him and he can look at us."