Foundation of Hearts likely to bid without Gordon McKie's group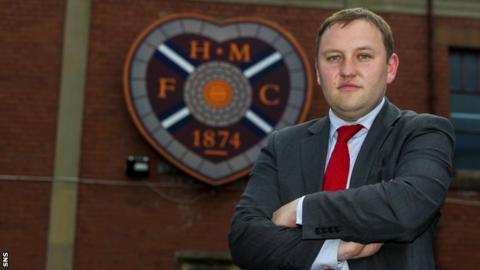 The fans' group hoping to buy Hearts have indicated they will continue to pursue their own bid for the club but have considered a joint offer.
A consortium led by former Scottish Rugby chief executive Gordon McKie had proposed an alliance with the (FOH).
And BDO's Trevor Birch says there are "three or four" potential bidders.
Hearts entered administration last month with debts of around £25m, most of which is owed to Lithuania-based companies.
A statement from FOH read: "The Foundation of Hearts notes media comments from Gordon McKie that the consortium he is leading will only now be able to proceed with the Foundation on a joint basis.
"This comes after Mr McKie's group confirmed they do not have the capital to fund a deal alone.
"His consortium have made a proposal to the Foundation of Hearts which is to be welcomed; however, this was one of two routes the Foundation is considering in preparation for the capital investment required to secure a majority stake in Heart of Midlothian FC.
"At this time, the Foundation is set to choose the alternative funding option but wishes to maintain a strong, positive relationship with Mr McKie's group, given it and his own personal expertise."
And FOH Murray commented: "The board of Foundation of Hearts will consider the best option for Hearts, nothing else, ahead of next week's deadline.
"We welcome Gordon's honesty that his own consortium is not in a position to go it alone and thank him for putting a proposal to us. They have been forthright and professional all through the process.
"Our bid will combine capital funding support alongside the fantastic efforts of supporters in setting up thousands of direct debits to the Foundation to provide a stable ongoing financial platform.
"We are very confident that the route we pick will be right for Hearts both now and in the future, given the strong options available to us."
Meanwhile, Danny Wilson says he is committed to Hearts "for the long haul".
after signing a three-year contract, which followed a loan spell from Liverpool.
A registration embargo imposed on Hearts for an insolvency event placed the deal in doubt. However, the 21-year-old was able to complete the move, after agreeing a pay cut, as he was registered as a Hearts player at the time of entering administration.
"I had other offers but I made the commitment about a month-and-half ago to stay here and I made a lot of changes in my life for that," he said.
"I had been really happy here for six months and I get on so well with the manager and the boys at the club.
"So you don't just trade that for a bit of uncertainty.
"I'm here for the long haul and hopefully we can come through this better."