Conference struggle to attract sponsorship deal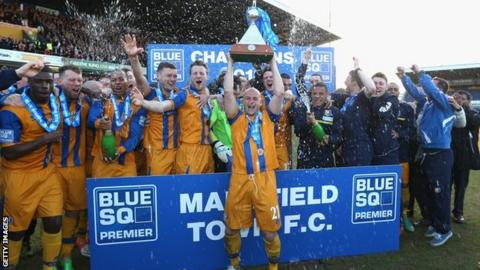 Conference Premier clubs look like missing out on up to £20,000 apiece next season as the league is struggling to attract a main sponsor.
Blue Square Bet's deal ended last season and the Football Conference has been unable to secure a new one.
Conference general manager Dennis Strudwick told BBC Lincolnshire: "We are working hard but without success.
"We believe there is somebody who will do it, but I have to be honest we don't have it on the hook just yet."
Blue Square Bet decided not to renew their contract at the end of their six-year deal but Strudwick remains hopeful about attracting new backers.
"At the moment we do not have a title sponsor," he added. "But we hope the television deal with BT Sport will be a bit of a carrot to a potential sponsor.
"Financially it affects the clubs an awful lot. With Premier Division clubs you could be talking about £20,000 [a season].
"I am guessing on £20,000, because I don't know what size of sponsorship we may or may not be able to attract. But that is a considerable sum of money.
"It's a smaller amount of around £7,500-10,000 [for Conference North and South clubs] but that is still significant.
"The hard nose aspect is that clubs shouldn't be relying on money other people should raise - they have to be living within their means.
"But the Conference board acknowledges its responsibility to use its resources to attract funding and over a period of about 20 years that has been very, very successful."