Nicolas Anelka: West Brom signing hopes to retire in England
Last updated on .From the section Football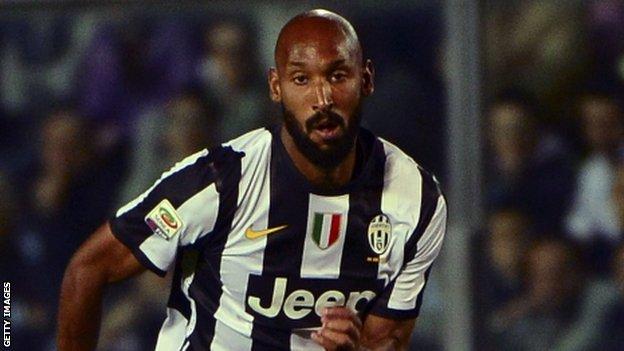 Striker Nicolas Anelka says he wants to end his playing career in England having signed a one-year deal with West Brom - his sixth Premier League club.
The 34-year-old was available on a free transfer following a short spell with Italian champions Juventus last season.
"I think I'll finish in England, I'm happy here. I also hope it will be with this club," said the Frenchman.
Anelka has previously played for Arsenal, Liverpool, Manchester City, Bolton and Chelsea.
"I hope we will be successful this year and hopefully we will reach Europe. We will try to do better than last season," added the former France forward, who won the Premier League's top scorer Golden Boot in 2008-09.
"That's why I'm here. When I spoke with the head coach, he said he wants to do better than last year. We will try our best to do that.
"We will also try to do the same in the cup competitions."
Anelka worked with West Brom manager Steve Clarke at Chelsea, and added that he was a vital factor in his decision-making.
"I know the club and I know the head coach, which was very important for me," added the striker.
"He knows how to use me on the pitch, which is important later on in your career.
"I know he likes to play football and that's why I signed here. He knows me and I know him. I also have friends in the changing room."
Since leaving Stamford Bridge in 2012, Anelka scored three goals in 22 games for Shanghai Shenhua and zero in three matches for Juve.