Cameroon ban: Fecafoot does not understand Fifa decision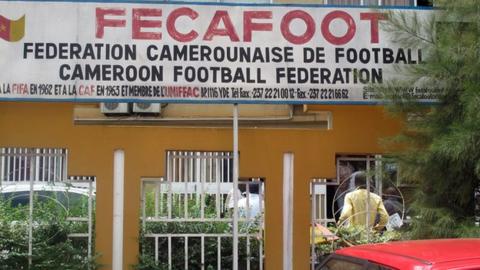 The Cameroon Football Federation (Fecafoot) says it does not understand why the country has been banned from all football activity by Fifa.
On Thursday, Fifa suspended Cameroon "on account of government interference" in the Fecafoot elections in June.
"It is a big surprise; I don't see any government intervention in what happened," Fecafoot vice president Essomba Eyenga told BBC Sport.
"We will make an appeal to the Court of Arbitration for Sport (Cas)."
The results of the 19 June Fecafoot polls - which re-elected president Iya Mohammed - were cancelled by Fecafoot's own appeals committee.
At that time Mohammed was being detained by the Cameroon authorities for alleged financial mismanagement of the state-owned cotton company, and he remains in custody.
After technical complaints from the losing candidates, the result was made void.
However, Fifa's ruling relates to what followed once the result was cancelled, when Fecafoot vice president and former transport minister John Begheni Ndeh forcibly installed himself as president on 28 June.
Accompanied by gendarmes, some of whom were stationed at Fecafoot's headquarters, Ndeh took over the federation and suspended the Secretary General Tombi A Roko after a meeting of the emergency committee.
That also led to the resignation of Fecafoot's first vice president Seidou Mbombo Njoya, who had expected to step in as interim boss.
In a statement on Friday, Fifa told BBC Sport: "The interference is linked to the occupation of the Fecafoot headquarters by security forces who unilaterally decided to install one of the parties involved in the contested electoral process.
"As such, the authorities are clearly interfering with the internal affairs of Fecafoot in contravention of articles 13 and 17 of the Fifa statutes, which oblige member associations to manage their affairs independently and with no influence of third parties.
"In addition, the occupation of the Fecafoot headquarters is yet another example of the long pattern of pressure applied by the authorities since the electoral process started in February 2013 and Fifa already sent in the recent months two correspondences related to interference."
And while Eyenga insists the issue is "an internal affair", there is an ongoing power struggle within Fecafoot, as his view is not shared by the federation's spokesman Junior Binyam.
"Fifa was involved in the meetings at the prime minister's office, so for Fifa to come this decision it must feel that some actions were authorised or accepted by the government," Binyam told BBC Sport.
"Everything started on 26 March when the minister of sport asked the federation to stop the elections. Many actions have been taken, probably with good intentions by the government, but that is not allowed by Fifa regulations."
Meanwhile, Cameroon's suspension means they will be unable to play against Gabon this weekend in the first leg of their 2014 African Nations Championship first-round qualifier.