Joe Murphy says Coventry City players must focus on football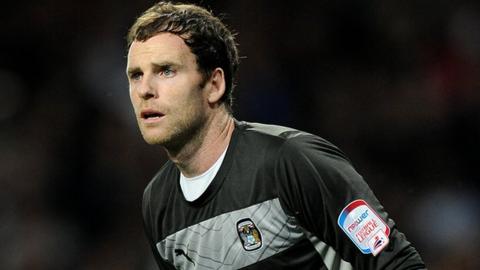 Coventry City's Joe Murphy says the Sky Blues players must focus on football despite all the off-field problems clouding the League One outfit.
The club are still in administration and under a transfer embargo.
And they are facing anger from their fans over a planned groundshare with Northampton Town.
But goalkeeper Murphy, 31, told BBC Sport: "We're here to play football. Let whatever happens off the field just sort itself."
He added: "We're in administration and we've got the embargo hopefully that can be lifted and then we can get back to business.
"We all want to play at the Ricoh. It's a great place to play, but for now we just have to concentrate on working hard here at the training ground."
Coventry fans have reacted angrily to owners Sisu's proposed groundshare 34 miles away from the Ricoh Arena at the Sixfields Stadium.
After more than a year in dispute with the club over the amount of rent charged to play at the Ricoh, the stadium's owners, Arena Coventry Ltd, say they are baffled by London-based venture capitalists Sisu's decision to look elsewhere.
"Our offer remains on the table," Arena Coventry Ltd director Peter Knatchbull-Hugessen told BBC Coventry & Warwickshire.
"We know they've been looking since last December for a new site or a groundshare. But when the announcement of something as large, as big, as dreadful as that finally comes there's still shock.
"[There is] A sense of disbelief that they can't really be doing that, even though one half of you knows they've announced it and have been very open about it.
"Always in the back of the mind you're thinking 'They can't really mean that. It has to be some sort of bluff'."