Jordan Rhodes rules out departure from Blackburn Rovers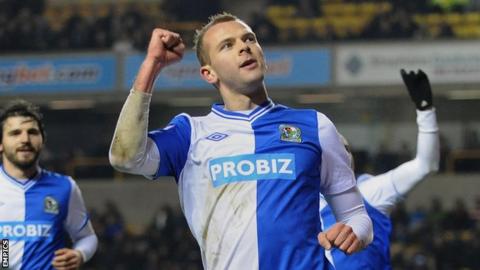 Jordan Rhodes has insisted he wants to stay at Blackburn after reports linked him with a move to Bolton.
Striker Rhodes scored 28 times for Rovers last season, following his
He told BBC Radio Lancashire: "I love coming into Blackburn Rovers because it's a fantastic environment.
"We're going to have a really good team spirit this year and it's something I want to be a part of. For as long as I'm welcome, you're stuck with me."
There were reports last weekend that Wanderers were interested in signing the 23-year-old Scotland international.
Wanderers manager Dougie Freedman revealed his admiration for Rhodes, but suggested a bid for the player was unlikely.
In response, Blackburn manager Gary Bowyer said Rhodes was not for sale, and the player is concentrating on starting the new season with Rovers at Derby on 4 August.
A turbulent 2012-13 campaign, during which the club had five different managers, ended with Blackburn narrowly avoiding a second consecutive relegation.
Rhodes said: "In certain games and certain scenarios, we didn't do great. Towards the end, everyone around us seemed to be picking up points and we managed to get ourselves sucked into a bit of a relegation battle.
"When the going got tough, we really stepped up to the plate and managed to come up with some good results.
"You know what the Championship's like - if you put two or three wins together, suddenly you're a half-decent team, and if you lose three or four, you're looking at the other end of the table."