Norwich City: Nathan Redmond made 'mature' choice of new club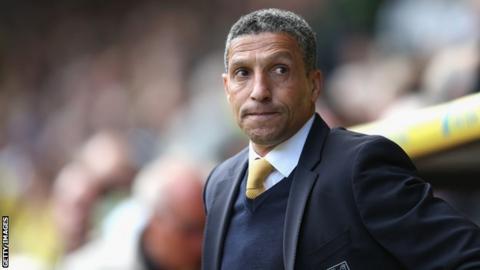 Norwich City manager Chris Hughton believes new signing Nathan Redmond made a "mature" decision in choosing to join the Canaries.
Swansea City and Everton were among the others clubs chasing the former Birmingham City winger.
But Redmond, 19, has signed a four-year contract at Carrow Road.
Hughton told BBC East: "Nathan and his advisors had other options but they've been very, very mature in deciding this was the place for him to come to."
The Canaries boss previously worked with Redmond when he was in charge at St Andrew's.
"I think my presence influenced him, but the bigger influence was the football club, and he and his advisors have done everything right.
"It is a coup for us, because there was interest from a lot of clubs, and we feel he's a player with real potential. Now it's up to us to make sure we develop him in the right way to fulfil that potential," he said.
"I know him well - he's very motivated, and someone who wants to progress and is prepared to work hard to do so.
"He is versatile, no doubt about that, but predominantly he's played in the wide areas. But he's good on the ball, likes to come infield and ultimately would be able to play anywhere, perhaps other than as a main number nine. I'm conscious he's still young, and that this is the top league, and how well he does is up to him."
Redmond confirmed he had taken time to fully assess all options.
"I took every club into consideration, but Norwich was always high in the rankings. Chris Hughton gave me freedom and a chance to express myself at Birmingham," he said.
"It's about learning and developing every day, and if I get the chance on the field I'll be delighted."
Hughton is in no hurry to further strengthen his squad before they leave for pre-season trips to Austria and the United States.
"Nathan is our third signing of the summer, but I don't have a certain number in mind.
"It's not always possible to make all the signings you want when you want to make them. If you can do it early, great, but it's not always easy to do that, and we're happy with the players we have in," he added.
"We have to look at the positives - there are clubs it's very difficult for us to compete with, but we are in a market with a group of other teams, and we can offer them a club that's been in the Premier League two seasons, has a record of being in the top division, and is in a wonderful part of the country. "