Gary Hooper continues to sets targets at Celtic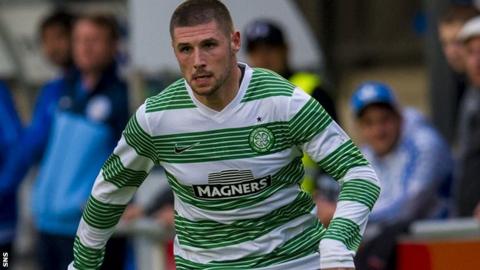 Gary Hooper has set his sights on another Champions League campaign with Celtic as speculation over the striker's future continues.
Celtic rebuffed a recent offer from Hull for the 25-year-old and rejected repeated bids from Norwich in January.
Hooper is out of contract in a year and has turned down the chance to agree an extension on his current deal.
But he said: "I want to play in the Champions League again, get into the group stages and get that feeling."
Celtic made it to the last 16 in Europe's premier contest last season, having finished ahead of Benfica and Spartak Moscow to finish group runners-up behind Barcelona, who were beaten in Glasgow.
Neil Lennon's men are currently on a pre-season tour in Germany, preparing for the first Champions League qualifier in Belfast on July 17 against Cliftonville.
Hooper, who scored 31 goals last term, told the club website: "I want to beat my tally from last season, that's the aim because I've done it every season.
"I also have to get 20 or more league goals because I didn't get it just there, I only got 19.
"We also want to retain the title as obviously the league is still our priority."
Hooper has a new strike colleague in Portuguese target man Amido Balde, who he played alongside during a 1-0 friendly defeat by Ukrainian side Sevastopol in on Wednesday.
"Amido is solid, he's a good player," Hooper said. "He's quick, he's strong and he had a good chance the other day that he should have put away, but everyone misses chances. He's looked good in training."
Celtic face Romanian side Cluj on Saturday and Hooper is eager for more action after missing the start of pre-season training.
"I feel good," the former Scunthorpe striker said.
"I missed a week at Lennoxtown because I had a groin problem. But I'm back now, training every day since we've been over here and I feel fit."