Wayne Rooney: David Moyes defiant in first news conference

By Phil McNulty
Chief football writer
Last updated on .From the section Football203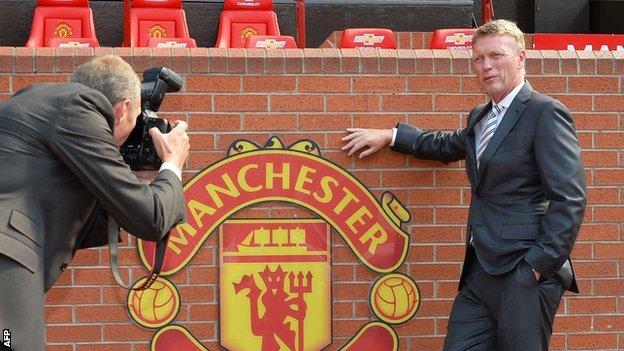 David Moyes listed the names of Manchester United's legends and offered Wayne Rooney his place among them as he tugged on the heartstrings of Old Trafford's unsettled striker.
Moyes was sitting in the Europa Suite at his new home in the self-styled "Theatre Of Dreams" - and gave an impressive performance in his first public appearance since succeeding Sir Alex Ferguson as United manager.
The shadow of uncertainty hanging over Rooney's future, or lack of it, was still big enough to loom large over his first appearance.
This may not have been the 250 journalists and 40 film crews at Stamford Bridge for the return of Jose Mourinho, but it was still an occasion of some gravitas.
That was emphasised by the opening line from a United official who announced this was "the first new manager press conference Manchester United has held in 26 years".
Moyes, understandably and predictably, was defiant as he insisted Rooney would not be sold and said his form after returning to pre-season training had been impressive.
It was what he would not - and clearly could not - say that was of real significance among his insistence that the England striker was at Old Trafford for the long term.
Moyes, on more than one occasion, was offered the opportunity to confirm that United's commitment to keeping the 27-year-old had been matched by the player's spoken desire to stay.
The Scot, as honest as he is hard-working, could offer no such assurance that Rooney had told him he wanted to stay - presumably because that is yet to happen.
He was asked: "Has Wayne categorically said 'I don't want to leave?'"
The response came: "I can categorically tell you Wayne Rooney is training fantastically well."
Moyes appeared sanguine about questions surrounding Rooney, especially as he faced plenty of them when the pair were last together at Everton in 2004, but there is still clearly work to do on this one.
Of course, Rooney may yet realise his best bet, and most realistic challenge, remains at Old Trafford and Moyes cleverly outlined what could await him if he accepts that is the case.
Chelsea and Arsenal have been linked with the striker but Moyes offered up the tantalising prospect that matching the goalscoring deeds of Sir Bobby Charlton and Denis Law would offer him the chance to leave a more lasting legacy.
If the issue was a concern to the new manager, it did not show - and he was tested with more questions on the subject than might have been tolerated by Ferguson.
Moyes distanced himself from apparently differing versions of events of what actually happened at United at the end of last season. Ferguson announced Rooney had asked to leave - it seems the player himself does not quite recall it like that.
So Moyes needed to be diplomatic on one hand, with Ferguson still at United as a director, while stating his own position with the other. He is hardly likely to take issue with his predecessor and does not wish to alienate Rooney when he does not need to.
He handled this perfectly by insisting this was a private conversation he was not party to. It was the ideal get-out for a tricky situation.
In open play, as it were, away from the Rooney issue, Moyes displayed a clear grasp of the task he has taken on after ending his 11 years at Everton - and the weight of history heaped on his shoulders by the achievements of Ferguson.
And he did nothing to dispel the theory that Ferguson was kingmaker when it came to appointing his successor, Moyes being summoned to his fellow Scot's house to be told - not asked - that he was the next Manchester United manager.
There was still a slightly surreal air listening to anyone other than Ferguson discussing Manchester United affairs, seeing another manager touching the club's badge near the Old Trafford dug-out.
In one of the conference's more colourful lines, Moyes said success was "tattooed" on that crest, the impression made by the years of success under Ferguson and the glories of the past fashioned by men such as Law, Charlton and the late, great George Best.
The task now falls to Moyes to retain the title United won for the 20th time last season and put his own imprint on the Red Devil emblem. And add more European gloss to their reputation.
He was suitably reverential to Ferguson and insisted he would be happy to call on his wise counsel from the proximity of the boardroom - but Moyes is experienced enough to know he will stand or fall by his own methods after he paid his public debt to the man he succeeds.
The challenge is immense, although Moyes put it in simple terms as he acknowledged his inexperience in European football, which is rooted in United's DNA, and outlined his approach.
"All I can do is what David Moyes has done before."