Champions League: Cliftonville relish European clash with Celtic
By Richard Petrie
BBC Sport NI
Last updated on .From the section Football
These are heady days at Solitude.
The celebrations had barely subsided following Cliftonville's Irish Premiership title success when the north Belfast club were handed their dream draw for the second qualifying round of the Champions League. A money-spinning tie with Scottish Premier League giants Celtic.
One of those 'where were you when you heard the news' moments that don't come along often in life, never mind in a sporting context.
Just when Reds fans thought life couldn't get any better after seeing the club end their 15-year wait for a league championship, along comes an opportunity to enjoy a competitive clash with the club that many of their players, officials and supporters have idolised since childhood.
The common consensus was that the days of glamour matches against the bigger European clubs were over in favour of much less appealing trips to smaller clubs in some far flung corner of Europe that have you reaching for the atlas or internet search engine as soon as the draw is made.
Instead, in recent years, fans of Irish League clubs have become accustomed to watching under-strength teams from big visiting clubs take on their local favourites in the context of friendlies, but a competitive fixture against a club of the magnitude of Celtic on the European stage is on a different scale altogether.
Derby rivals Crusaders may have had the opportunity to entertain English Premier League side Fulham two years ago, but Cliftonville supporters are relishing this fixture even more, arguably the biggest in the club's history.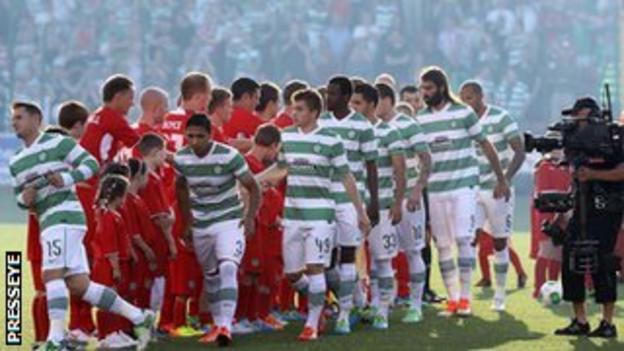 Following years of mediocrity and becoming the "nearly men" of Irish League football, it's the stuff of dreams for all involved with the long-established Belfast club. The fact that some fans may have been faced with divided loyalties added a further fascinating dimension.
The announcement that the first leg would be staged at Solitude, with alternative venues Windsor Park, Casement Park and Ravenhill all ruled out early on, provoked a scramble for tickets, and live television coverage provided a further financial fillup in economically challenging days when many of Northern Ireland's semi-professional clubs are struggling to make ends meet.
Eager to ensure that as many supporters as possible would be able to savour the occasion, additional seating was installed to bring the capacity close to around 5,500.
Bedecked in replica shirts and scarves, fans were in the vicinity of the ground from early evening to catch a glimpse of their illustrious visitors and by the time kick-off arrived, the ground was a sea of colour against a backdrop of glorious mid-summer sunshine.
The ground was packed to capacity, reminiscent of that dramatic April Saturday afternoon when Tommy Breslin's side clinched the league crown by dethroning deposed champions Linfield.
The presence of Lurgan-born Celtic manager Neil Lennon in the visiting dugout added a further local link to an already historic occasion.
Some players, including prolific strike pair Joe Gormley and Liam Boyce, were offered a shop window to showcase their talents in front of a sizeable television audience, while new signings Chris Curran and Joe McNeill began their first ride on the Reds' rollercoaster of success on the substitutes' bench
Reality dictated that the outcome of the game and the tie may have been inevitable but the Irish League part-timers deserve credit for giving a good account of themselves against a full-time professional outfit, littered with international players.
The second leg at Celtic Park promises to be another memorable occasion, then Cliftonville's attention will turn to warding off the threat of a new-look Linfield side and all-comers who may threaten the domestic superiority they enjoyed last season.
Celtic will play at more salubrious venues, in front of larger crowds this campaign, but will surely remember fondly the electric atmosphere generated and the welcome afforded to them by the enthusiastic 5,500 crowd crammed into Solitude on a balmy summer evening.