Dunfermline: Pars United not expecting Gavin Masterton hurdle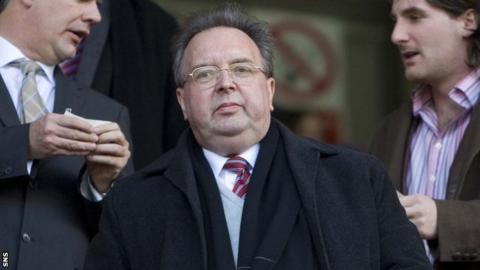 The preferred bidder for Dunfermline does not expect major creditor Gavin Masterton to be a stumbling block to exiting administration.
, who will be asked to accept a company voluntary arrangement (CVA).
Dunfermline have debts of around £8.5m, most of which is owed to Masterton.
"I don't think he'll stand in the way of us taking the club out of a CVA," said Pars United's Bob Garmory.
"I hope he won't. I don't think he's the biggest hurdle now.
"Gavin is a significant creditor with Dunfermline Athletic Football Club, as indeed are quite a number of the Pars United personnel.
"They're also significant creditors and they've not only chosen to forego what they've already put into the club but they're prepared to put more money into the club."
Dunfermline are due to start next season in the third tier of Scottish football, having been following and incurring for .
"We've got expectations for next season but we've got to be realistic," added Garmory.
"We've only gotten over one of the first hurdles, we've got a long way to go to rehabilitate Dunfermline Athletic and all the fans know that.
"Buying the Pars is only stage two of our plan, keep the Pars is stage three and we're just about to hopefully enter that phase, if we get through the CVA and get into next season.
"Obviously, we're in the Second Division. That means it's a different financial profile, we've got to recognise that.
"We do have a couple of games that we expect that there would be a slightly bigger crowd when we get Rangers visiting us and we have the local derby against East Fife. They're a resurgent force with the extra money that's gone into that club.
"Next season is about consolidating what we've done, getting through next season, hopefully getting into a play-off situation.
"We can't sign players until January, at least players over 21 years of age. We're coming back from a long way down and it'll take us time to rebuild the club to where we want it to be."