Cosafa chief Suketu Patel hails Southern African growth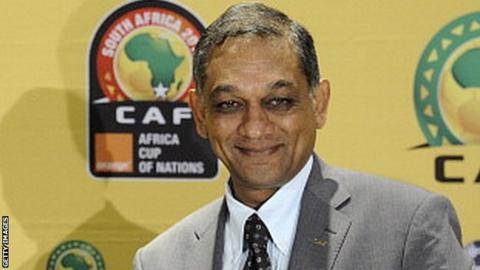 The president of the Confederation of Southern African Football Associations (Cosafa) has given short shrift to the idea that the game is more developed in West and North Africa than in his own region.
Suketu Patel has told BBC Sport, "it's quite the reverse".
Patel was speaking from Zambia, host of this year's Cosafa Cup.
The southern African regional football championship started on Saturday and ends on 20 July.
It is a widely held notion among fans and pundits alike that Northern Africa produces the best teams, the West the finest players, the East rests on former glories while the South has achieved very little.
For instance, only South Africa and Angola have ever been to the World Cup finals and Zambia's Kalusha Bwalya remains the only player from the region to be named Caf African Footballer of the Year (1988).
South Africa and Zambia are the only two countries from the 15-nation bloc to have won the Africa Cup of Nations.
Whilst players from the West and North continue to make waves in Europe's big leagues, southern Africa is nothing more than a desert when it comes to players good enough for football's global market.
But in comments that will no doubt leave many people scratching their heads, Patel told BBC Sport in Zambia that having players in the big leagues of Europe is not a true yardstick of progress on the domestic front.
"West Africa and north Africa rely entirely on their European players, so it's incorrect to say that football in west Africa is more advanced than in the south; in fact, it's quite the reverse," said Patel, who is also a member of the Caf executive committee.
He added: "If we were to rely solely on players that come from Europe to show that we're strong, that really is not development.
"When you look at the real development at lower levels such as schools and youth, then I think we're more developed because there's a much better grassroots structure than I've seen in west Africa."
Patel, who comes from Seychelles, conceded that success-starved football fans in the southern zone would find it difficult to accept his concept.
"We're football administrators and we have a different perspective to fans. Fans want to win at all costs, but that's a short term view.
"We have to go beyond that and look at the longer term objectives and create the foundations now so that in 20 years we have new administrators who can build on what we've done today."
Namibia opened the Cosafa Cup in Zambia with a 2-1 win over Mauritius in Group A.
The final takes place in Ndola on 20 July.