Manager Andy Morrell confident of Wrexham promotion challenge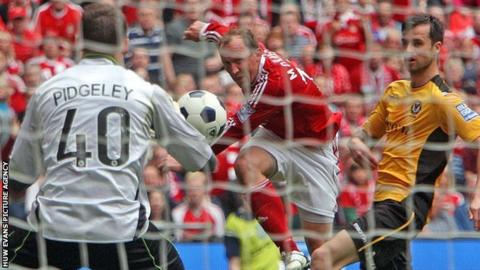 Wrexham manager Andy Morrell believes he has the makings of a squad to mount another serious promotion challenge.
The north Wales club missed out on a return to the Football League when they were beaten 2-0 by Newport County in the Conference play-off final at Wembley in May.
It was the second season running the Dragons missed out in the play-offs, but Morrell is not downhearted.
"I think we've got a real good chance of going close again," he said.
However, Morrell believes he needs to make additions to the squad if Wrexham are to be serious promotion contenders.
He is confident of achieving that in spite of the apparent reluctance of some players to move to the Racecourse.
"There's players out there, but there's always something better round the corner they believe," he said.
"So it might be a little waiting game, a bit of patience, but I'm sure we'll be able to do something at some point.
"We are a small squad, we're a younger squad this year, [and] I still believe that if we can get two or three in to just add to that then I think we've got a real good chance."
Wrexham kicked off their pre-season with a 1-1 draw at home to Blackburn Rovers on Saturday.
Brett Ormerod gave Wrexham a 1-0 halftime lead, but the Championship side equalised in second half stoppage time through Chris Taylor.
"I'm really pleased," commented Morrell.
"They brought their full first team which was great and a few fans came along and it's really done us well."