Newcastle United: Alan Pardew insists he is still in control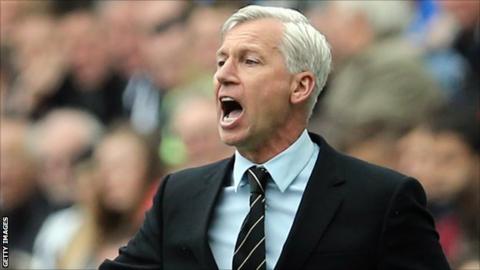 Manager Alan Pardew insists he is still in charge of team affairs at Newcastle United following Joe Kinnear's appointment as director of football.
Magpies owner Mike Ashley brought former boss Kinnear back to Tyneside to oversee recruitment, with Pardew reporting to the 66-year-old.
However, Pardew is confident he will maintain control of first-team affairs.
"I'm my own man and I will manage this football club to the best of my ability," he told BBC Newcastle.
Kinnear's arrival at Newcastle was shrouded in controversy and he initially announced it himself through interviews with television stations and on radio before the club confirmed the news days later.
He said after his appointment that his job as director of football did not put more pressure on Pardew, amid questions about how this alteration would impact on the manager's future.
Kinnear has made factually incorrect statements, such as claiming to have signed goalkeeper Tim Krul and defender James Perch, and also mispronounced the names of several players.
"Some of the things Joe said, he's apologised for, especially getting the names wrong of our players. That needs to be corrected, because there's a certain respect needed there," Pardew added.
"I spoke to one or two players and my staff here and made them very aware of where the position lies.
"If Joe can persuade Mike to invest in the football club in the right manner, then that would be the best outcome for us.
"As well as we've done on the transfer market, there's always room for improvement and I spoke to Joe and told him where I think the weaknesses in the squad are.
"I told him I need to strengthen them and I've got a couple of ideas."
The appointment of Kinnear also led to confusion regarding the position of chief scout Graham Carr, but he along with Pardew and Kinnear will continue to source signings.
What has changed at the club is the departure of managing director Derek Llambias, with facets of his former post shared between finance director John Irving and secretary Lee Charnley.
"You could say Joe isn't fulfilling the role that Derek had to a degree, but Lee will fill the other part of that role, he's got great experience," Pardew added.
"Between myself, Lee and Joe we hope to get some transfers over the line, and some out by the way, because the squad is probably a little thick in some areas.
"Graham comes up with one or two suggestions, I come up with the same, we probably have a list of four that myself and Graham think will take the team forward, we present that to Joe, and he presents it to the owner.
"Joe has to dress that up for the chairman in terms of the finance, in terms of how it will work and then Lee comes in and hopefully we get the player over the line.
"Mike feels Joe probably knows the scene better than Derek. That might be Mike's opinion, but as far as I'm concerned the most important factor for Joe is transfers."
Alan Pardew was talking to BBC Newcastle's Mick Lowes, and the full interview will be available to hear on BBC Newcastle's Total Sport programme on Monday, 8 July 2013 from 17:30 BST.