James Beattie: Accrington Stanley will benefit from overseas camp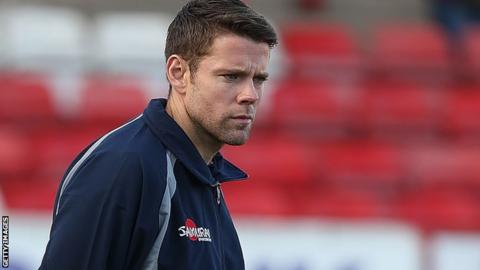 Newly-appointed manager James Beattie believes Accrington's pre-season trip to Portugal has had a huge positive impact on the Stanley squad.
Stanley returned from their five-day training camp, the first overseas trip in the club's history, last week.
"It's sent out a bit of a statement of intent from the club, the board and the players that we mean business," Beattie told BBC Radio Lancashire.
Under previous manager Leam Richardson, Stanley produced an to move clear of relegation trouble in League Two.
Having already said he is keen to make pre-season as interesting as possible for his players, Beattie believes the training camp has served its purpose.
"The lads couldn't believe it when we sent the text message out," added the former England striker, 35. "I think it's the first trip of its kind in the club's history - I know it's the first time [teenage goalkeeper] Andrew Dawber's been on an aeroplane, which he was more than happy about."
A number of triallists, including former Sheffield United and Watford striker Danny Webber, appeared for Stanley in a 4-2 friendly win at non-league Nelson on Saturday.
Accrington open the 2013-14 League Two season with a visit to promoted Newport on 3 August.