Will Paulinho's Tottenham move spark a South American influx?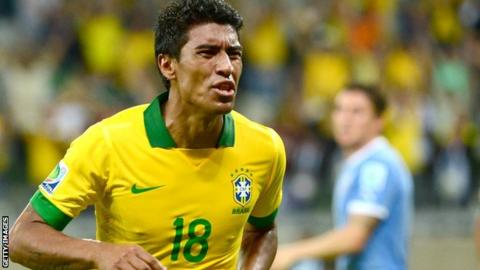 With Brazil's Paulinho joining Tottenham and Argentina's Gonzalo Higuain heavily linked with Arsenal, some top-class South American talent is heading to the Premier League's north London clubs.
Paulinho, 24, who joined Spurs for £17m from Corinthians on Saturday, is the type of box-to-box midfielder who looks made for English football.
He is strong, versatile and a master of timing the burst into the penalty area, hence the comparison with Frank Lampard made by the ever-astute Argentine playmaker Juan Roman Riquelme.
Higuain, 25, whose father Jorge is reportedly in negotiations with Arsenal, is a centre-forward with penalty area presence, finishing skills and - the aspect of his game that makes him so suitable for Arsenal - intelligent movement across the attacking line.
Real Madrid are resigned to losing Higuain, who proclaimed at the end of last season that he "needed a change", and Arsenal could be prepared to pay him £100,000 a week for the privilege.
Arsenal midfielder Jack Wilshere should have an extra skip in his stride at the thought of slipping Higuain through on goal; while Spurs counterpart Sandro must be delighted at the prospect of forming such a natural midfield double act with his compatriot, holding the fort and allowing Paulinho to break forward.
Higuain clearly tired of the restrictions of Real Madrid's squad system, and wants to join a club where he is the undisputed first-choice striker.
Paulinho, meanwhile, was the most important player in a Corinthians team that won the Brazilian Championship, Copa Libertadores and Club World Cup title. He went as far he could in South American club football, and wants to test himself in a new environment.
The feeling is, then, that these are two magnificent players who are coming to the Premier League at the right time for the right reasons.
This, though, is not always the case with Europe-bound South Americans. Sometimes, it is easy to question whether it is the right move,
I wonder about the youngsters taking part in the World Under-20 Cup in Turkey. Chile's bright left-sided specialist Cristian Cuevas has just been eliminated from the competition after his team lost 4-3 to Ghana in an unforgettable quarter-final and now joins Chelsea.
Uruguayan right-back Guillermo Varela still has some work to do at the tournament before making the trip to Manchester United. His side are in Wednesday's semi-final against surprise team Iraq, with the prospect of a final on Saturday against the winners of France and Ghana. After that, though, he is off to Old Trafford.
But are these players doing the right thing by coming across the Atlantic so soon?
"Only time will tell" is a thoroughly banal response. But there can be wisdom in banality. Every case has its own merits, and a 'one size fits all' approach could never suffice. But some general considerations can be made.
Lionel Messi, for example, probably benefited from joining Barcelona as a pre-adolescent. Adjusting to life and football in another continent can be far more difficult when the journey begins a few years later.
In behavioural terms, it is common for footballers to go through a relatively late adolescence. Through their teens, focusing on their football tends to shield them from the normal experiences their peers go through - when they sign their first big contract, there is a temptation to make up for lost time. All of this can be disorientating - all the more so if the youngster suddenly finds himself in a new country.
And there is the question of adapting to a faster and more physical type of game on the pitch - if he makes it that far. One of the problems of the premature move is that of the career losing momentum. This does not apply so much to Varela, who was not a first-team player with Penarol, but it could certainly be the case with Cuevas.
The huge promise he showed at the start of the year in the South American Under-20 Championships forced the hand of O'Higgins coach Eduardo Berizzo, who found a place for the youngster in his first team even if it meant using him at left-back. His natural position is higher up, as a left-sided attacking midfielder, but all of this was wonderful experience for a player who has only just turned 18.
But what happens now? A place in the Chelsea starting team is some way off. Hanging around in the reserves is problematic. The place to learn and develop, whatever the level, is the first team. A loan to a smaller club is all very well, but there are no guarantees. After all, the club that take him have no long-term stake in his progress. It is all too easy for a young player to get lost in such a situation, and for his career to go off the rails.
If that happens, the sad fact is that the only real loser is the player himself. The buying club has spent little on him. He is a gamble. If he comes off, fine. If not, there are plenty more out there.
The selling club back in South America have had their injection of cash - or the investors have received it if his ownership (or a percentage of it) has already been traded. The agent has made his commission.
Paulinho has already seen this side of things. He came through the ranks with a Sao Paulo club set up by a supermarket, and as a teenager had spells in Lithuania and Poland before going back home. He thought about giving up the game. Instead, he built his career with Bragantino in Brazil's Second Division before hitting the big time with Corinthians.
He returns to Europe not as a cheap gamble that can be discarded, but as an expensive international star to be cherished.
Comment on the piece in the space provided below. Send questions on South American football to vickerycolumn@hotmail.com, and I'll pick out a couple for next week.
From last week's postbag:
I have heard of a joint Argentina-Uruguay bid for the World Cup in 2030 on the 100th anniversary of the tournament. Given the protests in Brazil about the cost of running the tournament, how would this affect Uruguay and Argentina? Also looking at stadiums in Uruguay, where would they have the capacity to host it, bar the Centenario stadium in Montevideo?
Derek Molloy
It's an idea that has been out there for a while, for the World Cup to return to Uruguay on its centenary in 2030 - and since Uruguay can clearly not do it alone, it would have to be joint with Argentina - indeed, as you have pointed out, it would be overwhelmingly Argentina's tournament given the fact that Uruguay only has one major city.
It's a lovely idea, and I don't see the protests in Brazil as an impediment. First, we're dealing with different countries, and secondly, I hope that events in Brazil will lead to improvements in the way these huge tournaments are organised.
In Italian football, there's an unspoken tradition that you don't humiliate your opponent. Teams go 3-0 or 4-0 up and then play the ball around without any intention of scoring. They call it "melina". Failure to "show respect" results in fights between players, managers and fans. The referee sometimes blows for full time before 90 minutes are up.
The amount of booing towards Spain with every goal they scored against Tahiti in the Confederations Cup got me thinking: is there a similar mentality in Brazilian football? I wasn't sure if it the viewing public were playing a game to put the Spanish off against the underdog or there was genuine disgust at their pursuit of double figures.
Damiano Iannetta
Fascinating question. I think the whole concept of humiliation is so strong in Latin cultures. Much of what you write applies to Argentina - where teams, if they go three or four goals down, will close ranks to avoid greater humiliation.
In Brazil, I think this applies more in individual than collective terms. The fight starter is often an individual trick - a spot of ball juggling, or lifting the ball over the head of an opponent. Players have been booked for such activities - one was even booked a couple of years back for a dribble which the referee ruled as too expansive and thus humiliating. I'm not sure what Garrincha would have made of this!