Nigeria set up panel to investigate bonus payments row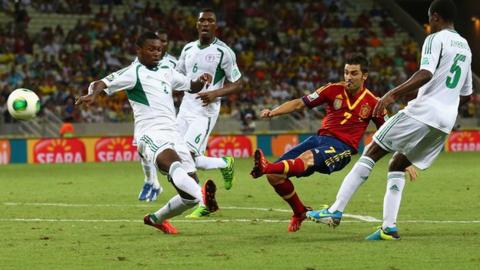 Nigeria's sports minister has set up a six-person panel to investigate the bonus row which almost led to the national team boycotting the Confederations Cup in Brazil in June.
Bolaji Abdullahi announced that the committee, which includes former international midfielder Garba Lawal and is chaired by former presidential adviser Segun Adeniyi, will be inaugurated on Thursday.
Adeniyi served as a member of the Presidential Task Force which jacked up the team's winning bonuses from $5,000 to $10,000 in 2009 in order to motivate the team to secure a place at the the 2010 World Cup in South Africa.
Also on the panel are sports journalists Onochie Anibeze and Aisha Falode, joined by Shehu Dikko - a member of the League Management Committee - and Akin Oshuntokun, a former managing director of the News Agency of Nigeria.
The panel has been charged with determining the cause of the crisis, developing a code of conduct for players on national assignments, and making any other recommendations deemed necessary.
They have been given two weeks from their 11 July inauguration to submit a report on the subject.
Nigeria's players had initially refused to to go to the Confederations Cup following their 1-1 draw in Namibia in a World Cup qualifier as they were unhappy with the bonus payments offered by the Nigeria Football Federation.
The sports ministry intervened and made extra money available, eventually allowing the squad to travel to Brazil - two days late and only around 36 hours before its opening game against Tahiti.
Meanwhile, the Nigeria Football Federation (NFF) has confirmed a friendly date with South Africa.
The African champions will face Bafana Bafana in the annual Nelson Mandela challenge in Durban on 14 August.
"We have signed the contract. We feel delighted to have the opportunity to accord honour to one of the great sons of Africa. Dr Nelson Mandela deserves this honour," NFF president Aminu Maigari said.
The match will prepare both Nigeria and South Africa for their crucial 2014 World Cup qualifiers in September against Malawi and Botswana respectively.