Hearts fans bullish over Edinburgh club's future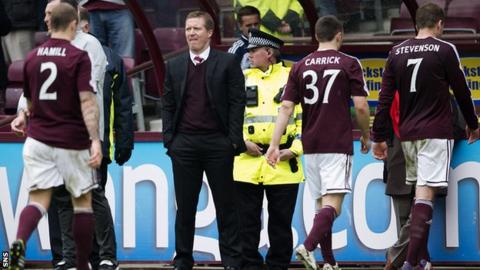 "The club is in my bones."
Hearts supporter Steve McIntyre has been a season ticket holder since 1997 and, like many Jambos, has been through the emotional wringer.
The Edinburgh club entered administration last month with debts of £25m and doubts surrounding its future.
With a deadline of 12 July for bidders and a target of at least 3,000 extra season ticket sales to keep the club afloat, times are tough in Gorgie.
Vladimir Romanov, who breezed into the club in 2005, has since had his wings clipped and is keen to sever ties with the Tynecastle outfit.
McIntyre, 40, told BBC Scotland that Hearts fans' emotions have ranged from anger and embarrassment to bewilderment and disbelief.
"The thing for me, right throughout Romanov's tenure, is a feeling of frustration," he said on a baking hot day in Edinburgh.
"We couldn't influence it, there was nothing we could do. When it was going well, there was still questionable stuff going on. But what do you do? Stop watching your team?
"You've got two options: head along and support your team or not go at all. It was getting hard to be a Hearts fan for a while and embarrassing because of the things he was saying.
''We wanted to say: 'Stop! You're alienating the fans and creating a gap between the club and the supporters in the way you portray us across Scotland.'
''But nobody was able to influence it.''
Dave Cross, 38, sits beside his Dad and Steve in the Wheatfield Stand at home games and admits to being battle-weary with the coverage of his financially-stricken club.
"I've been a season ticket holder since 1986 when we lost the league on the last day of the season," he said.
"Hearts are in a sad place but in the last few weeks I've seen a few positives that may help us along. I'm getting to the stage were I'm almost sick of reading the newspapers about it.''
Events at Tynecastle rarely cease to amaze for a club formed in 1874.
From Romanov's incredible views on the Scottish football authorities, to the sacking of George Burley with the side playing an impressive brand of football, fans have regularly rubbed their eyes in disbelief.
McIntyre parted with his cash when the club launched a share issue last year; Cross decided against it.
"I worked out that, in a 12-month period, up to and including the share issue, with home games, season ticket and shares, I spent nearly £1,700," said McIntyre.
"I know of other fans who have spent even more than that. Three or four thousand fans bought shares and that's a huge outlay for people. Í couldn't have looked myself in the mirror if Hearts had died and hadn't done everything I could; this club is in my bones.
"'Hopefully, we'll get it back from Romanov and move on, move on from that feeling of not being empowered, of being embarrassed at what's happened in the club's name: that'll be a big thing.'
"The opportunities we've had and wasted, and it's no-one but our own fault. We had 72 players and paid guys like Laryea Kingston and Christian Nade £15,000, no else did that and we didn't need to do it.
''The one thing you need to say about Romanov, he did save us and gave us what we all wanted which was to stay at Tynecastle. He gave us some cracking players but also some embarrassing times.
''We (the fans) had discussions about it; what difference can my £50 make? After a few pints I'd talked about tiny acorns and mighty oaks. They all laughed and Dave bought me a wee watering can with that saying on the side of it."
Both supporters believe other Scottish clubs are also feeling the pinch in the current harsh financial environment.
Cross recounts a tale of attending a Hearts Q&A where Jim Jefferies, Billy Brown and a club admin employee answered fans' questions.
Cross said: "Someone said: 'Jim, the size of the squad can't be manageable'. Jim replied: 'We've got 64 players' and the admin guy taps him on the shoulder and says: 'No, we've got 65'.
"Then Jim and Billy have a chat about who's the 65th player. It became a running joke that night: 'who is the 65th player?' We were laughing but it's not funny.
"When Dylan McGowan signed for the club he didn't have a locker; he put his clothes behind the washing machine because there was no room for them."
Cross added: "If Hearts do go down the pan, I've seen them win the cup three times; I've been to Anfield and seen us beat Hibs convincingly in the biggest derby ever.
"Some of the things I've seen have been ridiculous. But you can't have everything. Do you want just to be safe? I wouldn't change it."
With Hearts starting the new season with a 15-point deduction, they'll be determined to hit the ground running in an attempt to narrow the gap on those above them.
So, fast forward to August and Hearts captain Danny Wilson leading the side out, what can fans expect?
"The hairs on the back of my neck are standing up thinking about it," said McIntyre.
"With a sense of pride and defiance. We're hostages to fortune, but hopeful? Yes."