Barry Town United & Llanelli: FAW refuse to discuss reprieves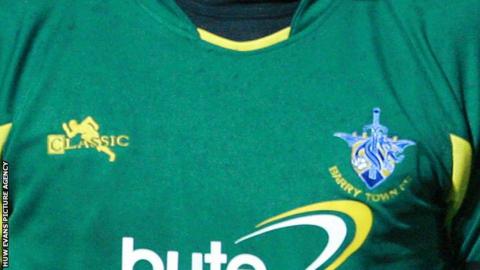 Barry Town United AFC's bid to be allowed into the Welsh League has failed after the Football Association of Wales refused to discuss a reprieve.
A special council meeting was called in Caersws to discuss Barry and Llanelli's bid to have their full FAW membership restored.
The FAW stated they had called a meeting they were not allowed to call under their own standing orders.
Councillors voted that they could not hear the case of either club.
Under the FAW's own standing order (clause 12), two-thirds of those eligible to vote at the meeting had to agree to suspend their own orders to hear the cases of both clubs.
The statement read: "Of the twenty-nine (29) council members present, fifteen (15) voted against and fourteen (14) voted for, standing orders to be suspended.
"As such, the information could not be heard and the previous decision of council, relating to the two clubs, as agreed at the meeting of council on the 13th June 2013, stands."
Barry Town were withdrawn from the league in May 2013 by their owner Stuart Lovering, but supporters formed a new club and sought to stay in the league.
The re-formed Barry were told in June to start life in parks football.
A phoenix club has also been established in the wake of Llanelli's winding up order at the High Court over a £21,000 tax debt, but they too were told to start afresh at the lowest level.
Llanelli's prospects of a reprieve looked less promising than Barry's because the original club was wound up.
Barry's new club had hoped to be readmitted into Welsh League Division Three - two divisions lower than when Lovering requested the club be withdrawn in May with two games of the season remaining.
Businessman Lovering bought the club in 2003, shortly after they had gone into administration with debts of £1m, but had been seeking to sell the club.
Barry Town Supporters' Committee (BTSC) had run and funded the club since 2011, but they were helpless to stop Lovering's request for the club to end its membership of the Welsh League.
Members of the FAW council considered a recommendation that the newly-formed clubs at both Llanelli and Barry should be admitted into the Welsh League.
But the FAW council voted against the recommendation during a meeting in Betws-y-Coed in June.
The clubs were instructed to apply for membership to their respective area associations.
Barry's fans have since campaigned vociferously for a change of heart.