Wayne Rooney: Fans will 'forgive' striker, says Bryan Robson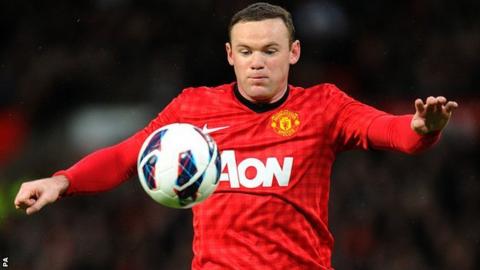 Former Manchester United captain Bryan Robson believes the club's fans will "forgive" striker Wayne Rooney if he decides to stay at Old Trafford.
The 27-year-old had a transfer request rejected by the club according to ex-United boss Sir Alex Ferguson, whose successor David Moyes has said Rooney is not for sale.
"If he starts the season, scores a few goals and enjoys his football, the fans will forgive him, if there's anything to forgive him for," the 56-year-old Robson said.
Robson, who appeared more than 450 times for United, said the situation was similar to when Rooney was sent off during England's World Cup quarter-final against Portugal in 2006.
On that occasion, Cristiano Ronaldo winked as his then club team-mate Rooney left the pitch, angering both England and United fans.
"After two games, Ronaldo was playing fantastically when he came back to Old Trafford. Everybody forgot about it and everybody loved Ronaldo," said Robson.
"And I think that's the scenario for Wayne."
Robson also warned Rooney that life away from Manchester may not be as attractive as it looks.
"Wayne's a great footballer and sometimes when you're a great footballer you look at pastures and ask are they greener than where you're at?" said Robson.
"He's got everything you could possibly want at the football club so, hopefully, he can be happy and entertain us. As a football supporter and as a Manchester United supporter I want to see the best players playing at our club."
Moyes suggested that Rooney may be attracted to staying as he has a chance of breaking United's all time goal-scoring record.
Rooney currently lies fourth in the list with 197 goals in all competitions for Manchester United. He stands 52 goals behind Sir Bobby Charlton, the club's record holder, who scored 249 times for the club.
Former striker Andy Cole believes that target could influence Rooney's decision to remain at the club.
"To have the opportunity to be the top goal-scorer in the football club's history? I'd stay around for that, for sure," said Cole.
"But it's not for me to advise him. Wayne's his own man, that's what has made him the player he is. He knows what he wants to do. David Moyes has said Wayne's not going anywhere and, hopefully, that will be the end of it."
Cole, who scored 121 goals in nearly seven years at Old Trafford, also thinks that winning the Community Shield against Wigan next month will be important to Moyes.
"If you win that, that's your first trophy," added Cole.
"People say 'that's not a trophy', but of course it is. It would be David Moyes's first trophy and, hopefully, would propel them forward to where they can win the Premier League."
Robson and Cole were speaking at the launch of United's new five-year partnership with Aeroflot, the Russian airline.