David Villa set for switch to Atletico Madrid from Barcelona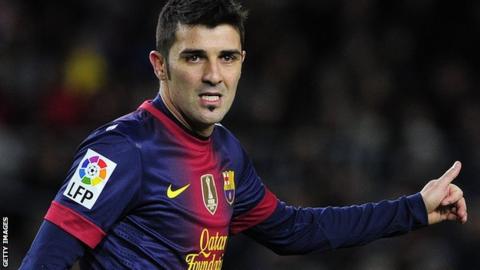 Barcelona have agreed a deal to sell striker David Villa to fellow Spanish side Atletico Madrid.
Premier League clubs Arsenal and Tottenham were linked with the 31-year-old but he is set to remain in Spain.
"The two clubs have reached an agreement in principle," said a statement on Barcelona's website.
"The deal will be worth a maximum of 5.1m Euros (£4.4m), with Barca reserving the right to 50% of any sell on fee."
Atletico, who sold striker Radamel Falcao to Monaco for a reported £50m earlier this summer, will pay the transfer fee in stages depending on how long Villa stays with them.
Villa scored 48 times in 119 games for Barcelona after arriving from Valencia in the summer of 2010. He is Spain's all-time leading scorer with 56 goals from 92 appearances.
One of his first games for Atletico could be against Barcelona in the Spanish Super Cup next month.