Wayne Rooney mature enough to decide own future - Rio Ferdinand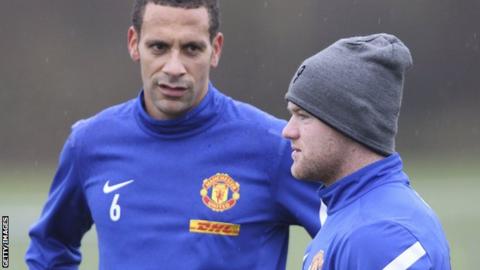 Rio Ferdinand says Wayne Rooney is "mature enough to make up his own mind" about his future - but warned leaving Manchester United is a backward step.
Rooney, 27, had a transfer request rejected by United and new boss David Moyes insists he is not for sale.
Ferdinand uses the example of Cristiano Ronaldo who has won fewer trophies than Rooney since leaving Old Trafford for Real Madrid in 2009.
"I don't see where you go better from here," said the United defender.
Ronaldo, 28, has scored 193 goals in 207 league games since joining the Spanish giants from United, but has won only one La Liga and one Copa Del Rey in his four seasons at the Bernabeu.
By contrast, United have won two Premier League titles and a League Cup, as well as reaching the 2011 Champions League final where they lost to Barcelona, since Ronaldo's departure.
Ferdinand said: "For instance, Cristiano has been ridiculous as a football player individually but has he won more trophies since leaving than what we've won? That's the way I look at it.
"I wouldn't say that he shouldn't have gone there - it was his dream to go there, so you have to respect that.
"But I just look at things in a plain, black and white way - I want to win trophies so why would I leave here?"
Rooney, who joined United from Everton in 2004, has scored 197 goals in 402 games, putting him fourth on the club's all-time list of top goalscorers.
But former boss Sir Alex Ferguson said the England international asked to leave Old Trafford at the end of last season because he was unhappy with being substituted in several matches.
Rooney has since been linked with Premier League rivals Arsenal and Chelsea.
"I think when someone is at your club who has been there for the length of time he has been there, he is more than clued up to understand the dynamics of the club," said Ferdinand.
"He's mature enough now and old enough to make his own mind up. I'm sure in time he'll have his say."