Ghana ready for France rematch in U20 World Cup semi-final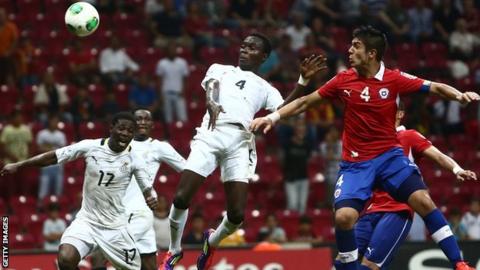 Ghana coach Sellas Tetteh is confident his side can overcome France in their Under-20 World Cup semi-final on Wednesday, despite having lost to their opponents in their opening Group A game.
That 3-1 defeat was the first time Ghana had lost a group stage match in six finals appearances.
They also went on to lose 1-0 to Spain but then beat the United States and South Korea to reach the last 16, where they beat Portugal 3-2.
And the Black Satellites set up a rematch with France after a 4-3 extra-time win over Chile in the quarter-finals.
Ghana will however be without three players for the semi-final with midfielder Moses Odjer, defenders Joseph Attamah and Lawrence Lartey all suspended for the game.
Tetteh believes his side has developed as the tournament in Turkey has gone on and he is confident they will be more of a match for France this time around.
"Since the France game we have played several matches and the progression of the team is clear," he told BBC Sport.
"As time has gone on we have shown we are now prepared to handle them. We know it is not going to be an easy task so we are going to work feverishly.
"We are going to meet a team that is in top shape, France have been scoring effortlessly. It is going to be a fierce battle and a very difficult assignment."
Having suffered defeats in their first two group matches, Ghana were forced to show their resilience and step up their game - just as they did when they came from behind to beat Portugal and Chile, where they recovered from 3-2 down in extra time.
And Tetteh feels those experiences are going to hold his side in good stead for Wednesday's match in Bursa.
"We always say that it is not over until it is over," said the coach, who led Ghana to the title four years ago. "The team has consciously developed a never-say-die attitude - we need to keep hold of that.
"One of the most significant things is the team's belief. We have won it before and we are on course again, so that is motivational for them.
"We do not have too much time, we will train only at the venue of the game. But we have been working together for a long time so we will be ready.
"And we have the mental toughness to deal with any situation. We are going to give it our all and refuse to be beaten for a second time."