Northampton Town chief defends Coventry City groundshare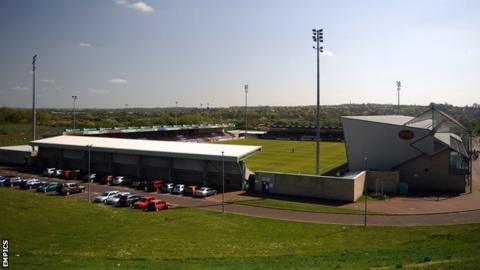 Northampton Town chairman David Cardoza says the deal for Coventry City to play at Sixfields will benefit his club.
On Monday, the Football League approved plans for a groundshare for at least the next three seasons.
"It's financially beneficial for us - we are being paid a very reasonable amount," he told BBC Radio Northampton.
"We are liable for absolutely nothing extra whatsoever. All the additional costs lie with Coventry and we will be sharing some of their revenue stream."
The Football League's statement confirming the deal came less than a week after the Cobblers announced plans for 2,000-seat stadium expansion.
Those plans, which will see Sixfields' capacity increased to around 10,000, are being funded by a £12m loan from Northampton Borough Council.
"It's pure coincidence that the news of both deals happened to break at the same," Cardoza added.
"But obviously the extra money is a huge benefit to us."
The Sky Blues have left their home at the Ricoh Arena, having failed to settle a long-standing issue over unpaid rent.
It is not the first plan for a groundshare at Sixfields Stadium - in August 2012 Northampton abandoned plans to create a rugby league team branded as the Northampton Rebels.
Cardoza added: "The only issue I can understand our fans' concern over is the pitch.
"But we think it can take the extra games as we've already invested a lot because we were going to have rugby league played here.
"In terms of rent, I don't want to get into the politics of what has happened in Coventry already but I am very confident they will pay us.
"I'm not concerned as I know that they have the ability to pay the rent, they just haven't wanted to."