The New Saints: Craig Harrison relishes Legia Warsaw tie
By Nick Southall
BBC Shropshire
Last updated on .From the section Football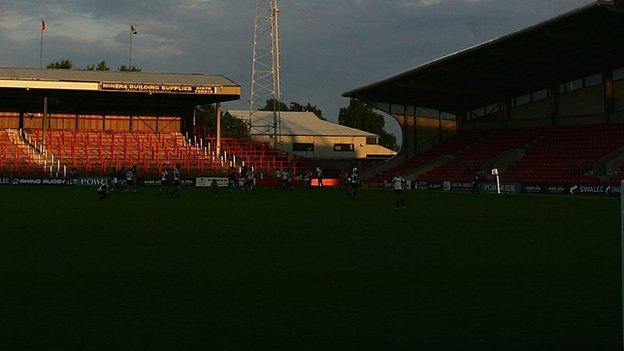 The New Saints boss Craig Harrison hopes to experience the biggest high of his football career when his team take on former semi-finalists Legia Warsaw in the Champions League.
But he knows that, however the Welsh Premier League champions fare against the Polish giants at the Racecourse Ground on Wednesday 17 July, it will be hard to make up for the low he suffered the day his own playing career ended 10 years ago.
The former Middlesbrough defender - a former team-mate of Paul Gascoigne - freely admits that he spent too many years coming to terms with the career-ending leg break he suffered in January 2003 when playing for Crystal Palace reserves in what was supposed to be his comeback game from a previous injury.
"I was drinking a hell of a lot," the 35-year-old told BBC Radio Shropshire. "Not to the extent of being an alcoholic, but it helped numb the pain.
"I didn't want to socialise. I didn't speak to my parents.
"It went on for 18 months. I had weeks when I wouldn't leave the house.
"I paid friends who had jobs to spend time with me so they could stay off work and come out for a few drinks.
"But then you hear that more and more players coming out of football are gambling, drinking, into drugs or got no money or can't handle not being in the spotlight."
It took four operations, and two-and-half years of rehabilitation to repair Harrison's body but, as far as his mental outlook on life is concerned, he is very much of the opinion that whatever does not kill you makes you stronger.
"At the time, it felt like a bereavement," he said. "It's such a lonely place to be. You've lost something and you don't know how to replace it.
"I don't know whether being told by the surgeon that I'll never play again was the worst moment. It might actually have been a relief at that point."
And he admits that getting into football management, first with Airbus UK, on the England-Wales border just outside Chester, followed by his 19 months to date as director of football at Oswestry-based TNS in Shropshire, has proved such a source of motivation and kept him sane.
"It's something I think I've missed out on," he said. "I'd never been able to fulfil my potential after having my career taken away from me.
"But now it's proved my driving force. I probably wouldn't have been involved in football now if I'd gone on to have a reasonably long playing career."
But, 10 years on, with a family of his own to support, Gateshead-born Harrison is a changed man, still determined to make up for lost time.
After taking over at TNS in December 2011, within five months he was celebrating a Welsh Premier League title.
That was followed, in 2013, by a second league title, accompanied by victory in the Welsh Cup, to cap his first full season in charge.
Now he and his right-hand man Carl Darlington believe an even more illustrious achievement is possible - if they can pull off a Champions League giant-killing against the Poles, who reached the semi-finals of the European Cup in 1970 and Cup Winners' Cup in 1991.
"I am happy with the draw," said Harrison. "We have the chance to set our stall out in the first leg, so that then we know what we have to do when we go to Poland.
"They've got great pedigree. They've reached European semi-finals in the past, they won the domestic double last season and they're full of internationals, so it's going to be a tough encounter.
"But we have a very good squad and hopefully we will have learned a lot from last season when we gave a good performance against Helsingborgs.
"We just have to make sure that we keep ourselves in the tie in the first leg."