Cardiff City can survive in Premier League, says Mark Hudson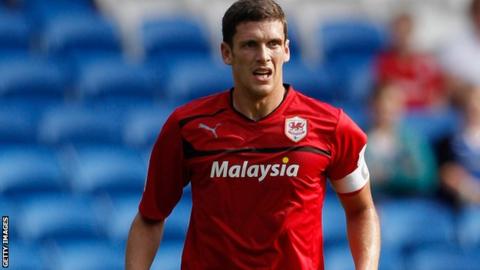 Captain Mark Hudson says Cardiff City are good enough to survive in the Premier League despite being among the favourites for relegation.
Centre-half Hudson, who has signed a new deal to stay until at least 2015, led Cardiff to the Premier League.
He is confident the Bluebirds, back in the top flight after 53 years, can survive in the Premier League.
"Of course, everybody is going to put that label on us because it is a big test for us and the club," said Hudson.
"But we have been gearing up for this for a long time and we are prepared and are going to do things properly.
"I am fully convinced that we have enough in this squad already, with the new additions, not just to survive but to compete at a great level in the Premier League."
Cardiff, who won the Championship title last season, have been dubbed as one of the favourites to be relegated from the Premier League, like all newly promoted sides.
This will be their first season in the Premier League and they will renew their famous Welsh rivalry with Swansea City this season.
After leading the club to the Championship title and into English football's top flight, Hudson's performances earned him the award of supporters' player of the season.
Hudson, 31, joined Cardiff from Charlton Athletic in July 2009 and passed 150 appearances in 2012-13.
He admits manager Malky Mackay has not told him if he will skipper Cardiff in the Premier League, but it's a job he wants to keep.
"I haven't had that conversation yet, but I am not going to let it go," said Hudson.
"We are on a blank page now and we really have to stamp our authority on the games coming up.
"Everyone is going to want to be in the team so we all have to be up and ready to go. There is a great buzz around the place at the moment and everybody is raring to go."
Denmark striker Andreas Cornelius has already joined Cardiff for their first Premier League season.
The Welsh club are also in talks with Blackpool midfielder Tom Ince and for the England Under-21 player.
Ince, the son of Blackpool manager Paul Ince, is one of the most sought-after players in the Championship having established himself as a goal-scoring midfielder at Bloomfield Road, scoring 18 times in 49 appearances last season.