Antolin Alcaraz and Joel Robles rejoin Martinez at Everton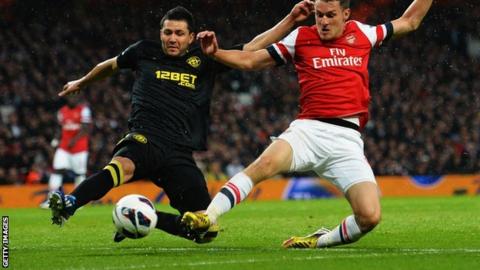 Antolin Alcaraz has been reunited with manager Roberto Martinez after joining Everton on a two-year deal.
The centre-back, 30, has become the second player in two days to follow Martinez from Wigan to Everton.
Alcaraz, who was out of contract at Wigan, has joined striker Arouna Kone in making the move to Goodison Park.
Goalkeeper Joel Robles - who spent part of last season on loan at Wigan - has also moved to Goodison Park, from Atletico Madrid.
Paraguay international defender Alcaraz told Everton's website: "I'm really feeling enthusiastic for this new challenge in my career.
"We talked to other clubs but I am more interested in staying in the Premier League. I like this competition."
Martinez brought Alcaraz to Wigan from Club Brugge in the summer of 2010.
Alcaraz missed a large portion of last season with a groin injury as Wigan were relegated from the Premier League.
However, he did play in their FA Cup final victory over Manchester City at Wembley.
Spanish 23-year-old Robles also played in the FA Cup final triumph, one of 13 appearances he made for Wigan after arriving on loan in January 2013. He has signed a five-year contract with Everton.