Barry Town United AFC consider legal action against FAW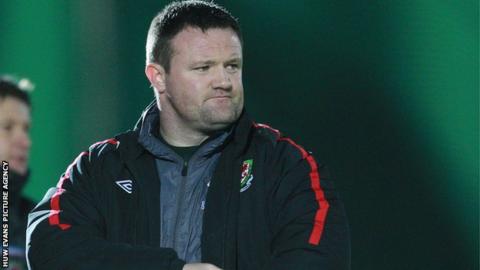 Barry Town United AFC is seeking legal advice after the Football Association of Wales refused to discuss a reprieve from playing parks football.
Llanelli AFC was wound up and Barry's owner withdrew them from the Welsh football pyramid last season.
New clubs were started in both towns and the FAW met on Tuesday to consider bids to have their full membership restored.
But FAW councillors voted they could not hear either case.
"We are seeking legal advice because surely this is not a decision in the best interests of Welsh football," said Barry manager Gavin Chesterfield.
The FAW said their own standing orders prevented them discussing the clubs' requests and a vote to overturn this failed.
"This leaves us considering our next option which sadly means the only route we believe we can take is the legal one," said Chesterfield.
"I find that extremely disappointing, it feels like we are no further down the line as to what we were ten days ago.
"Our case has been delayed some what, but what disappoints me more than anything is that the council convened at Maes Mawr Manor [in Caersws] and the votes went 15-14 against hearing what they call new evidence.
"I have only read their press release, but my understanding is that these people have a duty of care to the game and to hear new evidence which has come to light in order to make a more informed decision.
"Sadly, it appears our case was not even discussed."
Barry Town were withdrawn from the league in May 2013 by their owner Stuart Lovering, but supporters formed a new club and sought to stay in the league.
The re-formed Barry were told in June to start life in parks football.
Barry's new club had hoped to be readmitted into Welsh League Division Three - two divisions lower than when Lovering requested the club be withdrawn in May with two games of the season remaining.
Businessman Lovering bought the club in 2003, shortly after they had gone into administration with debts of £1m, but had been seeking to sell the club.
Barry Town Supporters' Committee (BTSC) had run and funded the club since 2011, but they were helpless to stop Lovering's request for the club to end its membership of the Welsh League.
A phoenix club has also been established in the wake of Llanelli's winding up order at the High Court over a £21,000 tax debt, but they too were told to start afresh at the lowest level.
Llanelli's prospects of a reprieve had looked less promising than Barry's because the original club had been wound up.