Portadown insists pro contracts embargo 'a temporary issue'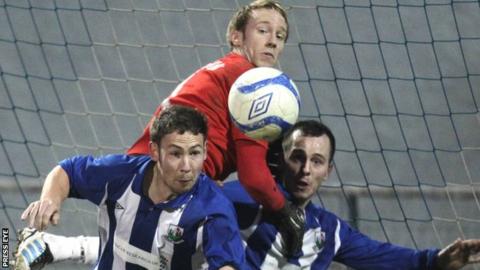 Portadown have described the Irish FA's embargo on the club's registration of professional contracts as a "temporary timing issue".
The Ports have confirmed that the club can currently only sign players on amateur contracts.
However, they remain confident that the issue will be sorted out in advance of the start of the Premiership campaign.
A statement said that the club had been unable to attend a scheduled meeting with the Irish FA last Friday.
"Work commitments left a club official unable to attend Friday's scheduled meeting with the IFA to sign off on the forthcoming season's Salary Cost Protocol terms," said a club spokesman.
"The situation with the registration of professional players is a temporary timing issue which will be cleared once we hold the meeting.
"Work commitments and holiday issues mean the meeting has had to be rearranged for a date over the next few weeks.
"We are currently working with the IFA on a new date and then it will be a case of clearing the various points.
"Everything must be processed before the start of the season but we do not anticipate any long-term problems."
On Monday, Portadown announced the signing for former Lisburn Distillery goalkeeper Billy Brennan on a one-year amateur deal.
Defender Emmett Friars and midfielder Peter McMahon joined the Ports at the end of last season but it has mostly been players leaving Shamrock Park.
Richard Lecky and Brian Gartland were among those to depart.
Jamie McArdle, Andrew Burns, Joe McNeill, Aaron Burns, Ryan Burns, Mark Patton and Michael McLellan also left in April's clear-out.
Long-serving Ports midfielder Richard Clarke was appointed player-manager of Championship One club Dergview last month.