Liverpool: Kolo Toure wants Champions League qualification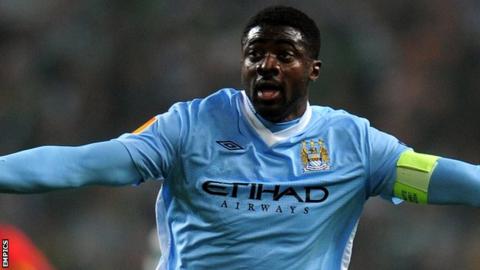 Defender Kolo Toure believes Liverpool can secure qualification for the Champions League next season as he looks to be part of Anfield "history".
The 32-year-old Ivory Coast international moved to Liverpool on a two-year deal after his contract at Manchester City expired.
"We want to win trophies, but we want to play in the Champions League as well," he said.
"This club is a winning club. I want to be part of history here."
Toure made 102 appearances for City after joining from Arsenal for £14m in July 2009 and was part of the team that won the Premier League in 2011-12, but he played only 18 games in 2012-13.
Liverpool last played in the Champions League in 2009 but, despite only finishing seventh last season, Toure insists a return to the top four is the aim.
When asked if Champions League qualification was realistic next season, he said: "Of course we believe we can achieve that.
"I think with the squad we have got we can do very well this season. Liverpool have the history, quality, players and mentality.
"We just want to take the team as far as we can, to the top four or to win a trophy.
"To bring the club back to the Champions League would be amazing and that is what I am looking for."
Toure, who missed out on City's 2011 FA Cup success after being suspended for six months in March of that year for failing a drugs test, joins the Merseyside club following the retirement of fellow central defender Jamie Carragher.
"This is massive for me," he said. "it is an honour to play for Liverpool. This club is unbelievable. I've been here for two weeks and I've seen a lot of fantastic things.
"My experience will of course be important. I know Jamie Carragher was a really important player for this club and he has retired now. I think Liverpool look for somebody who can replace him. He was a big player for us.
"To replace Jamie Carragher is unbelievable. He was a fantastic player for England and this football club, a great leader. I will do my best."
Fellow summer signing Simon Mignolet is also relishing the new challenge after the 26-year-old goalkeeper joined from Sunderland for £9m.
The Belgium international played 101 games for Sunderland following his £2m move from Sint-Truiden in June 2010 and will be competing with Liverpool's current first-choice keeper Pepe Reina, 30, next campaign.
He said: "For me, it is a big step forward. I will just look at myself, get myself fit and will just do my best to play every week.
"I am not here to be sitting and resting, I am here to progress and play.
"There is competition at every club, especially when you move to a big club."