Seychelles: A long road to improvement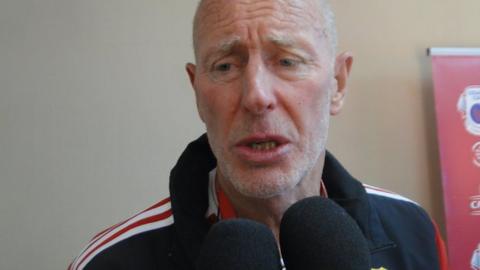 Seychelles coach Jan Mak believes transforming the Pirates into contenders requires someone with the ability to change "iron to gold".
The Indian Ocean islanders - ranked 200 of 207 in the Fifa world rankings - are currently taking part in the Cosafa Cup in Zambia.
Their chances of progressing in Zambia are over as they lost their first match when they lost 4-2 to Namibia, and then 4-0 to Mauritius.
Dutchman Mak told BBC Sport that although the odds are stacked against him, he is not about to wave the white flag just yet.
More than anything, he said he has seen enough in his players to convince him that Seychelles football has a secure international footing.
"The Seychelles is not the top team in Africa and will never be," said Mak in response to a question on whether the smallest country in Africa would ever shed the no-hopers tag.
"They will not be the world champions but we will improve to be much better than we are now.
"They have players who can be very good; they are not different to any other players in the world."
Although the annals of football history are littered with cases of elite nations humbled by minnows, such as North Korea beating Italy at the 1966 World Cup and Senegal upsetting France at the 2002 edition, Mak said turning Seychelles around is going to take some doing.
"I cannot change iron to gold. I select the players and work with the clubs but we must work on the structures on the game first.
Seychelles have slightly improved at international level, winning two of their 2004 Africa Cup of Nations qualifiers - against Zimbabwe and Eritrea.
But will the Seychelles ever qualify for the Africa Cup of Nations finals?
"Absolutely possible, maybe not tomorrow but in the future, yes, it's possible.
"The Seychelles is the little brother in the football world; they don't have many players but there are always possibilities."