Nigerian football team thrashed 67-0 is disbanded by owner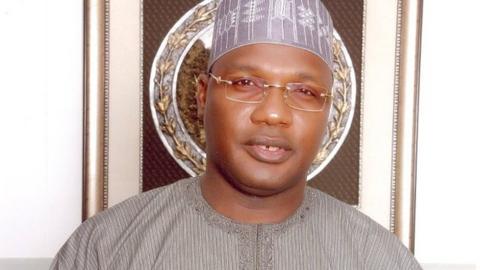 The owner of a Nigerian side beaten 67-0 in a vital match has disowned and disbanded the club.
Bubayaro lost heavily to Police Machine, who were looking to secure promotion to the lowest tier of the Nationwide League Division.
Machine's promotion rivals Plateau United Feeder won their match against Akruba, played simultaneously, 79-0.
Nigeria's football authorities have suspended all four clubs involved, calling the results "mind-boggling".
Police Machine needed to win and outscore Plateau United Feeder, but the final results would have seen the latter promoted on goal difference.
The Nigerian Football Federation (NFF) has imposed an indefinite ban on the four clubs and struck the results from the records, with further investigations promised.
Feeder scored 72 of their goals in the second half, while Police Machine found the net 61 times after the break in their match.
Bubayaro owner Shuaibu-Gara Ahmed Gombe, who was in Lagos and not at his club's game, said he had ordered the team not to play the match but he was ignored by team officials.
"As soon as I heard the result, I disbanded the team," he told BBC Sport.
"It's disappointing that some people would bring the game to disrepute out of desperation."
He added: "I have written a petition to the (state) police in Bauchi to investigate this shame and arrest anyone found to be involved."
It is also claimed that attempts to make arrests after the Bubayaro match were thwarted when players and officials disappeared immediately after full-time.
Some who attended the two matches reported incidents including questionable refereeing decisions, inexplicable added time and club officials rather than ball boys returning balls into play immediately after goals had been scored.
A journalist who saw Bubayaro's defeat against Police Machine, and who asked not to be identified in order to protect his own safety, told BBC Sport: "In the second half, we started witnessing outrageous own goals, free-kicks and terrible goalkeeping.
"Feeders blasted goal after goal past Bubayaro. Officials of the club turned into emergency ball boys, instead of retrieving the ball from the net, they quickly threw another ball into the centre circle.
"It was ridiculous, because the losing side didn't make any effort and the officiating was abysmal, with controversial calls being made and unaccounted additional minutes played.
"Some people were on their mobile phones updating officials at the other venue."
The NFF called the situation a "mind-boggling show of shame" and said players, match officials and the tournament coordinator will be investigated for match-fixing.
NFF's organising committee chairman Mike Umeh said: "It is unacceptable - a scandal of huge proportions. The teams are suspended indefinitely, pending further sanctions.
"We will investigate this matter thoroughly and get to the bottom of it."