Leonardo resigns from PSG position after 13-month ban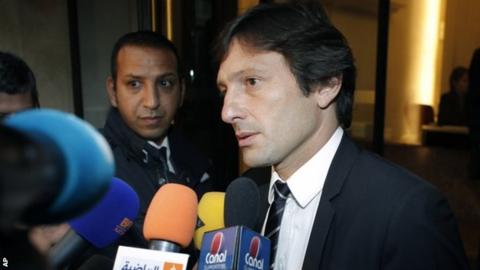 Leonardo has resigned from his position as sporting director of Paris St-Germain and will leave the club at the end of August.
The former Brazil midfielder, 43, was for pushing a referee in May.
He later - ruling him out for all next season - but has now decided to leave.
PSG said: "We regret his choice but respect his decision and wish him all the best for his future career choice."
Leonardo was filmed using his shoulder to make contact with referee Alexandre Castro in the tunnel after being angered by Thiago Silva's red card in PSG's 1-1 draw with Valenciennes.
He appealed but was then banned from all official duties until 30 June, 2014.
The French champions were also given a suspended three-point deduction for the 2013-14 campaign.
A club statement said: "Leonardo has informed Paris St-Germain of his desire to resign from his position as sporting director at the end of the current transfer window.
"We thank him greatly for his important contributions towards the project of building a top European club in Paris."
Leonardo, who won the World Cup with Brazil in 1994, denied barging the official but was found guilty of pushing him. He had claimed that another official accidentally pushed him into Castro.
French champions PSG last month, as Carlo Ancelotti left to take over at Real Madrid.