Lazio, Genoa & Lecce face points deduction over match-fixing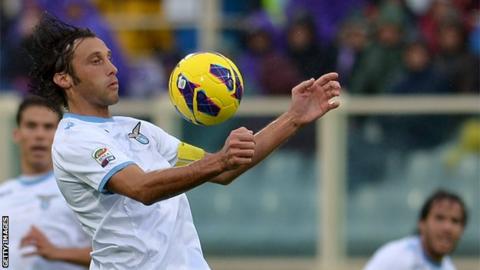 Italian clubs Lazio, Genoa and Lecce could be deducted points for match-fixing in a scandal where players allegedly offered £500,000 in bribes.
The trio of clubs and eight players, including Lazio midfielder Stefano Mauri, are accused of "sporting fraud" by the Italian football federation.
The matches under investigation are Lazio's final two games of the 2010-11 season when they beat Genoa 4-2 at home and Lecce by the same score away.
A hearing will take place on 24 July.
The other players charged were Omar Milanetto, who was at Genoa, and Lecce's Massimiliano Benassi, Stefano Ferrario and Antonio Rosati.
Mario Cassano and Carlo Gervasoni, who were playing for Piacenza at the time and Alessandro Zamperini, who was with lower league Fidene, were also reported, although their involvement remains unclear.
Mauri and Milanetto were both detained for one week last year by prosecutors investigating the case.
Cassano and Zamperini are already serving five-year bans imposed last year over different cases.
Last week, Serie B club Bari plea-bargained for a one-point penalty for match-fixing.