FA chairman: Football had 'neglected' mental illness
Last updated on .From the section Football162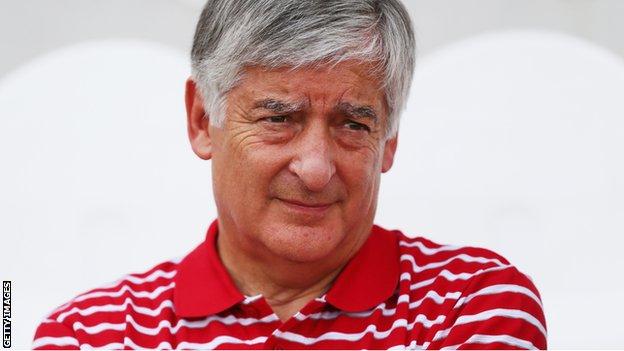 Football Association chairman David Bernstein admits the issue of mental illness in the sport has been "badly neglected in the past" and was not "high on my agenda".
Bernstein, FA chairman since January 2011, made the comments on the BBC3 documentary Football's Suicide Secret.
"This is not something that's been high on my agenda - maybe it should have been higher," he said.
A spokesman insisted the FA regards the issue as "vitally important".
Scott Field, the FA's head of media relations, said: "The mental well-being of players, managers and indeed all participants in football is vitally important to the FA, from grassroots to the professional game."
He said the FA helped to produce a handbook for professional players tackling the subject of mental illness, put on awareness workshops for coaches in 2011, and that it provided financial backing to the Sporting Chance Clinic, which treats sportsmen with behavioural problems.
Football's Suicide Secret, broadcast on Tuesday evening, examined the issue of mental illness in the sport.
It was presented by Clarke Carlisle, the chairman of the Professional Footballers' Association players' union, who has suffered from clinical depression.
He admitted he was frustrated the football authorities were not doing more to tackle the problem.
Carlisle contrasted the approach in England with that in Germany, which has put in place a number of initiatives to tackle depression following the suicide of goalkeeper Robert Enke in 2009.
Every professional club in Germany has access to psychiatric treatment and there is a 24-hour hotline for players who think they might be suffering from depression.
In addition, the Robert Enke Foundation tries to raise awareness of mental illness.
Bernstein told Carlisle: "The very nature of the problem is that it tends to be kept quiet. When you think of the top end of the game and the investment that goes into players, anything that goes into their well being has to be a win-win [situation].
"Clearly it's crucially important. Football is fundamentally an insecure profession and I think that lack of security can lead to these things very easily.
"Getting the whole of football together is absolutely key and we are very happy to have had this conversation because its raising the profile, for me as well."