Thurrock relegated for fielding player who failed to pay £16 fine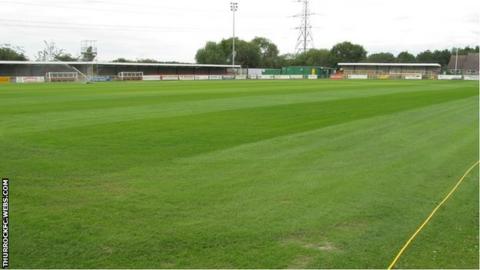 Thurrock's relegation for fielding a player who had not paid a £16 fine has been confirmed after the Football Association rejected their appeal.
Their three-point deduction relegates them to Isthmian Division One North.
Joel Barnett was banned, having played for a team in Yorkshire that folded with unpaid fines, the cost of which was then spread throughout its staff.
Thurrock owner Tommy South told BBC Essex: "Joel should have told us but he never knew because he was in prison."
The Fleet managed to secure safety in the Isthmian Premier Division by a single point, only to be told they would be docked three, almost a month after the season had ended.
It meant consecutive relegations for the club after they finished bottom of Conference South in 2012.
"A club being told they were down on 7 May has never happened in the history of football has it?" South continued.
"It's a disgrace. It all happened 11 months ago and what the FA and Ryman League have told us is that we should have checked this website and that, but we followed procedure by checking with our own county FA.
"It's a real mess because he got sent off playing elsewhere before he came here and got a three-match ban but nothing was flagged up."
Thurrock will now take their case to the European Court of Arbitration for Sport (CAS) in Lausanne, the court that ruled in favour of Dwain Chambers' appeal to compete in the London Olympics.
That appeal process can take up to 109 days which means it could be late October before a decision is reached.
Club secretary Mark Southgate told BBC East Sport: "Things have moved on pretty rapidly today, as this afternoon we served the Football Association and the Ryman League with an injunction.
"That injunction is to prevent the fixture release that is scheduled for Monday and also to stipulate that the Ryman League cannot begin the season until our appeal to CAS has been heard.
"Hopefully that will speed up the overall appeal process."