Rangers: Ex-chairman Malcolm Murray calls for transparency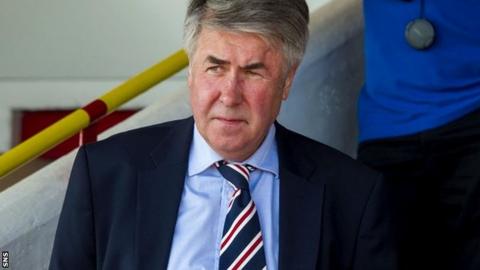 Former chairman Malcolm Murray says his will leave institutional investors nervous about the Ibrox club's future.
And he also called for continued transparency about the club's finances.
Murray has written an open letter to Rangers fans after a boardroom shake-up that also led to fellow non-executive director Phil Cartmell departing.
"We cannot go back to the depths of the last two years - we need to hold course," said Murray.
Murray was appointed Rangers chairman last June after the takeover by a consortium led by Charles Green and oversaw a flotation of shares.
Green stood down as chief executive after an investigation was launched into claims about links with former owner Craig Whyte that have led to court action.
And Murray was in what was regarded as a move to bring some stability to the club that re-emerged in the Third Division last year following their descent into administration and then liquidation.
Murray remained on the board until this week, when as a non-executive director was confirmed.
The former chairman thinks the controversy surrounding the club would have disappointed legendary manager, director and vice-chairman Bill Struth.
"You and I want a squeaky-clean club run by men of the highest integrity and global commercial ability and the highest level of transparency," he told fans.
"The reason we went down the flotation route was to guarantee transparency, whereas ownership by mysterious individuals does not.
"Events of the last year have seen behaviour that would make the late, great Bill Struth spin in his grave.
"The loss of two men with such lengthy financial public company experience and a quality broker will undoubtedly raise questions amongst our institutional shareholders.
"Only time will tell how they will react. These investors and you are our future and you must be listened to and given transparency.
"Corporate transparency is the norm and we should embrace it rather than change course when difficult questions are asked."
Murray also revealed he had invested a substantial sum of his own money in order to save the club last year.
"I was chairman of this great club for arguably the most difficult year in its long history," he said.
"I was recommended for the role by the investment institutions because of my strong record of honesty, integrity and my successful stewardship of a 25% shareholding in Manchester United from the bottom to the top, but not least because I am a Rangers fan and everything I have done or do is for the club and not self-interest or financial gain.
"During the dark days of last summer, I put a six-figure sum into the club to literally stop the lights going out at Ibrox at a time when we were in real danger.
"My family have given things up to help save Rangers in this difficult year. There aren't many wives who would let their husband pay someone else's significant electricity bill."
Murray said he would remain a supporter and shareholder of Rangers and use whatever influence he has to benefit the club.
"I make this statement not for self-gratification or sour grapes but because so many fans have told me that dignified silence will be seen as a sign of disrespect," he added.
"My previously criticised silence was observed in the best interests of Rangers."