Women's Euros: Sweden's Pia Sundhage limited in her powers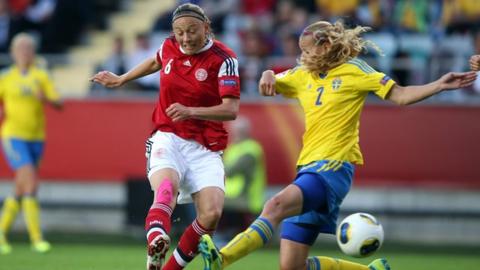 Swedish coach Pia Sundhage might not be a household name in Britain, but such is her status in her native country that when she returned home to take the job ahead of the European Championship it was likened to Diego Maradona becoming Argentina's manager.
Having played an integral part in Sweden's first and only European title in 1984 as a striker, Sundhage is not just a big draw in Euro 2013's host country.
As a coach she also led the United States women's team to Olympic gold at the 2008 and 2012 Games, and, also being a penalty shoot-out away from winning the 2011 World Cup final during her five-year stint, she is considered a footballing sage across the Atlantic too.
So when the Swedish media speculated that the national team could now be caressed by her golden touch, terming it 'the Pia Sundhage effect', it was no wonder that hopes of improving on third place in the 2011 World Cup were high.
Unfortunately, in the side's opening 1-1 draw with Denmark, Sundhage's fans found out there is a limit to her powers.
The 53-year-old could do nothing as star striker Lotta Schelin and team-mate Kosovare Asllani both had second-half penalties saved, denying the team a perfect start to their campaign.
In the build-up to the 11th European Championship, Sundhage had told her players "to embrace the pressure" but it appeared that despite creating the bulk of the chances in front of a feverish home crowd at the Gamla Ullevi in Gothenburg, their composure let them down when it mattered.
"I think it's understandable that in the first game, there is a lot of pressure and I think we dealt with it pretty well," Sundhage declared afterwards. "We got a point and we created a couple of chances and two penalty kicks.
"The most important thing is that the two players who took the penalty kicks need to deal with that feeling because that's tough. There are many more games, many more situations in front of us but they probably need one or two days and they will be ready to go."
Schelin shrugged off the need for penalty advice from her coach. "A penalty is a penalty, what is there to talk about?" she told BBC Sport. "I took my responsibility and I missed, it happens."
But should she change her mind, there are fewer better-placed people to turn to than her manager.
Sundhage's career is deeply interwoven into Sweden's sporting heritage already, having made her international player debut at 15, going on to score 71 goals in 146 appearances.
One of those was the first goal scored at Wembley by a woman in a 2-0 victory over England in 1989 but before that the striker engraved her name into Swedish folklore by scoring the decisive spot-kick in a penalty shoot-out win over England in the inaugural European Championship 29 years ago.
She also scored in the two-legged final, making it 1-1 on aggregate before penalties sealed it.
Simon Bank, sports columnist for Sweden's best-selling newspaper Aftonbladet, says that because of her achievements for her country, there was "immense warmth" towards Sundhage when she became the Swedish coach in December 2012.
Her record with the US, in which her team won 91 of 107 games and her Fifa's coach of the year award in 2012, led Bank to believe there was a "longing" for her to be in charge for Euro 2013.
"The word was that she was too old to fit in or too hard to work with but with the Swedish public she is immensely loved and always has been," he told BBC Sport.
"At the time I said the closest thing that would come to it was when Diego Maradona took over the Argentina men's team in 2008 because she has that status in the women's game in Sweden.
"She has always been a leader, she broke new ground and she went to play professional in Italy. She always dreamed of being a pro in the US even before they had a league so she has always been seen as somewhat of a visionary and, as a leader, she makes sure these visions come true."
Whether she foresaw Sweden's penalty woes on Wednesday is unlikely, but as Sundhage pointed out, it is only the first group game. Schelin added: "We have a lot of confidence in her as a coach. She knows what to do."
As for dealing with the pressure of her first competitive match as the Sweden boss, Sundhage told BBC Sport: "I loved it. I'm used to it. It was a little bit different and the reason is that I'm a Swedish coach and I played in the same team so it was a little special.
"And the fact that it was packed in the stadium, I was very proud, more so than when I was a coach for the States."
That bond between Sweden and Sundhage might mean she could encounter heightened pressures she is yet to experience as the tournament progresses, but for now it appears the hosts are in safe and capable hands.