Cosafa Cup: Mauritius ease to win over Seychelles
Last updated on .From the section Football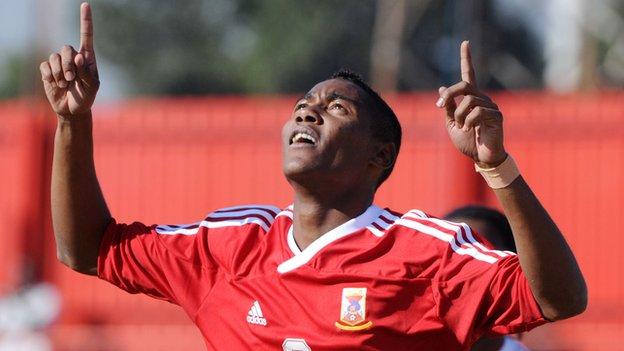 Mauritius eased past Seychelles 4-0 in their Group B match at the Cosafa Cup at the Nkana Stadium in Kitwe on Wednesday.
The result helped erased the victors' memory of a record seven-goal loss to their fellow Indian Ocean islanders in 2008.
And they also secured second place in the group.
Jean Stephan Pierre scored twice to take his tournament tally to three and further goals were scored by John Calambe and Fabrice Pithia, who had his initial penalty effort saved but netted from the rebound.
Mauritius were 3-0 up at half-time after the Seychelles went down to 10 men in the first half with the sending off of defender Steve Henriette after 35 minutes.
The victory ended a nine-match winless streak in the southern African championship for Mauritius whose last win in the competition was against Madagascar in 2005.
Pierre might have competed his hat trick in the 83rd minute when he went around the Seychelles goalkeeper but failed to find the net from a tight angle.
"We created a lot of chances and did a good job today," said Mauritius coach Akbar Patel. "It was difficult to keep concentration when we were three goals up and we gave too much ball away but we deserved the win."
Namibia had already secured top place in the group by beating Mauritius 2-1 in the first game of the tournament last Saturday and then Seychelles 4-2 on Monday.
Equatorial Guinea withdrew from the tournament just days before the kick off reducing the group to just three teams.
Namibia have advanced to a quarter-final meeting with South Africa in Lusaka on Saturday.