Zambia confident over bid to host 2019 Africa Cup of Nations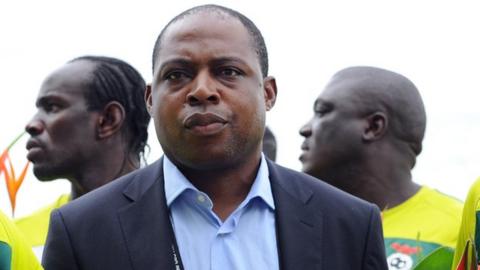 Football Association of Zambia president Kalusha Bwalya is confident the country can launch a strong bid to host the 2019 Africa Cup of Nations.
Zambia have never hosted the tournament - they were due to in 1988 but withdrew because of a lack of funds and Morocco stepped in.
Former Chipolopolo forward Bwalya, who is widely rated as Zambia greatest player, believes this time would be different.
"In 1998 the country was not ready, it was a different time. This time around we are more than willing and able and we have the capability to host a successful Cup of Nations," he told BBC Sport.
"Zambia's bid has to taken very seriously because the government is more than willing to assist us in this pursuit. The environment is more than ripe for us to have a favourable bid to host the 2019 tournament.
"I think that already the budgets for two stadiums are taken care of - if we do decide we are going to have two more stadiums. And we have time on our side to secure sufficient investment, so that we can have a compelling bid."
They face competition from Kenya, Nigeria, DR Congo, Liberia and Algeria - each have indicated their desire to host the event - but Zambia can at least point to their staging of the Cosafa Senior Challenge Cup, which is taking place in July.
There is also the Zambian public to consider.
The Chipolopolo won the 2012 tournament in Gabon and Equatorial Guinea but failed dismally to defend their title in South Africa this year as they exited at the group stage. And with that disappointment still fresh in the minds, is there an appetite from the Zambian people to support a bid?
"The public is behind us," insists Bwalya.
"Since it was announced that the Confederation of African Football was looking for partners to host the 2019 Africa Cup of Nations, the Zambian public have been on our case, willing us to say say 'we are going ahead, let's see if we can bring it to Zambia."
"With the public's and the government's support, all we need is for Caf to give us a favourable response."