Foundation of Hearts fans' group first to submit bid for club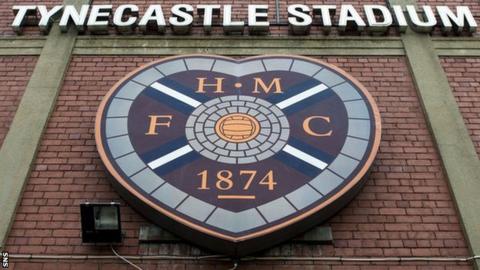 The Foundation of Hearts fans' group has become the first interested party to formally submit a takeover bid to the Edinburgh club's administrator.
And BBC Scotland understands that a Scandinavian group that has withdrawn from the bidding process is willing to work with whoever takes control.
Administrator BDO has set a 17:00 BST deadline on Friday for bid submissions.
HMFC Limited, backed by American group Club 9 Sports, is expected to also submit a bid to take over the club.
But it is understood that the Scottish-registered company have not been in recent dialogue with the administrator despite BDO having spoken to "three or four interested parties".
Hearts entered administration last month with debts of £25m - owed to companies formerly owned by Vladimir Romanov, who first invested in the club in 2005.
As a result, Gary Locke's team will start next season in the Scottish Premier League with a 15-point deduction.
Foundation of Hearts chairman Ian Murray said: "The bid is strong, credible and low risk. It provides a real opportunity for financial stability and a platform to grow the club we love again.
"At this point, we must respectfully be a little quieter than we have been to allow the Hearts administrators BDO to not only reflect on our bid but any other bids that come in from anyone else.
"Today may be the start of the next chapter in the remarkable history of Heart of Midlothian Football Club.
"But, whatever happens, this club's supporters will ensure it is a future as special as its past."
Murray thanked that "phenomenal Hearts support" as "this bid would not have been possible without you" and urged them to continue to contribute.
The foundation added that its proposal would take Hearts out of administration and, "with the ongoing backing of the supporter base, move towards a position of financial stability".
"Should this bid be accepted by BDO, it will allow the Foundation of Hearts to secure majority ownership over the club in a controlled fashion with support of the necessary capital to make today's bid strong and credible," it added.
Meanwhile, it is believed the Scandinavian group - made up of four Norwegians and two Swedes - would be interested in working with a new club owner despite not progressing with a bid of its own.
The group has taken a step back from the bidding process as it feels it would be wrong to get in the way of a fans-led offer.
However, it is open to looking at how it can contribute to the club in the future through either commercial or sponsorship channels.