Santander v Hercules investigated over possible match-fixing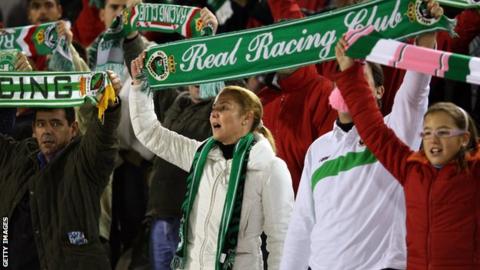 The Spanish league (LFP) is investigating Racing Santander's 3-0 home defeat of Hercules on 8 June over a possible case of match-fixing.
Despite winning the second division game, Santander were relegated.
The LFP launched its investigation after a report of "suspicious bets".
"Racing has absolute confidence in the players and rejects any malicious report that calls into question its honesty and professionalism," said the Santander club on their website.
"The club is the first to want to clear up the situation and will immediately make itself available to Uefa and the LFP to mount a thorough investigation."
League spokesman Juan Carlos Santamaria said the investigation was launched on July 3 after the league received a report from a bookmaker that "warned there had been suspicious bets" placed on the game.
He said: "This is an issue that concerns the league. Although these cases are minimal, we still have to fight against them to keep the competition clean.''
The Spanish league is already looking into Deportivo La Coruna's 4-0 win over Levante on 13 April over a possible case of match-fixing.