Craig Bellamy warns Cardiff City of Premier League 'reality'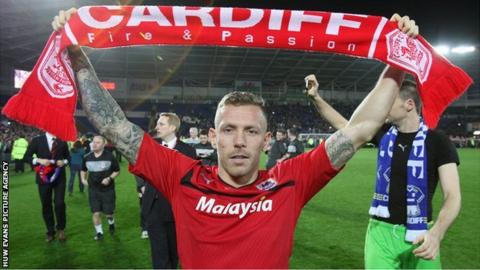 Craig Bellamy has urged his Cardiff City team-mates to hold their nerve next season and keep believing they can survive their Premier League debut.
The veteran striker, who turns 34 this week, has experienced highs and lows with clubs including Newcastle United, Liverpool and Manchester City.
Cardiff will need all Bellamy's experience in a tough top flight.
"Your promotion teams are always among the favourites to go down - that is the reality," Bellamy said.
"There will be times this season where we'll probably see the reality as well.
"At the same time it is a great league, but there are teams you can beat.
"You can't be overawed by everyone; I've been at the top end as well and lost against teams who are fighting relegation.
"There's a lot of points you can pick up where you sometimes might not think, on paper, that you've got a chance, but those are games you can get points from as well."
While Bellamy remains confident that the Bluebirds can avoid an immediate return to the Championship, he is realistic that Cardiff may get relegated.
But the Wales forward says the example set by West Bromwich Albion, who have yo-yoed between the top two divisions before establishing themselves as a settled Premier League side, shows that relegation need not be a disaster.
"I expect to stay in the Premier League again next year, but there's been a number of clubs - West Brom are the prime example - who come up and go down.
"Look at the state they're in; look at the professionalism their club has at this present moment and where they finished last year [a comfortable eighth place].
"They're nowhere near looking like being relegated this season, so it can be done going back and forward.
"But for everyone here and where we want to go, we just want to be part of this league as long as we can."
Denmark striker Andreas Cornelius has already joined Cardiff for their first Premier League season.
The Welsh club are also in talks with Blackpool midfielder Tom Ince and for the England Under-21 player.