Manchester United striker Wayne Rooney sustains hamstring injury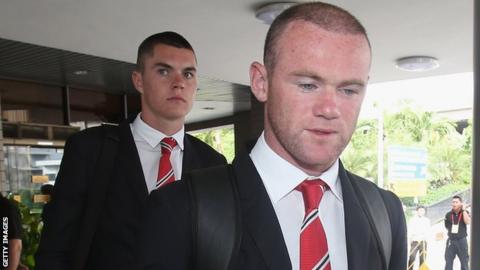 Manchester United striker Wayne Rooney is expected to be sidelined for a month with a hamstring problem.
The 27-year-old, who manager David Moyes says will not be sold despite speculation about his future, travelled to Thailand for United's pre-season tour on Wednesday but will now return.
The Red Devils' Premier League title defence begins at Swansea on 17 August.
"We won't take any chances, there is no point in taking him any further round the world," Moyes told MUTV.
England forward Rooney felt his hamstring tighten at the end of United's last training session before flying to Bangkok.
Moyes added: "It's disappointing. After the long flight we decided we'd get him tested and scanned and have a look at things, and there is just a small grade one injury there."
United face Wigan in the Community Shield at Wembley on August 11, with England playing Scotland in a friendly three days later.
"Gutted to have picked up a niggling injury, especially as training was going so well. Heading back to Manchester to have it assessed fully but early indications are nothing to worry about," said Rooney on his Facebook page.
Last week, Moyes said Rooney would "remain a Manchester United player" despite former manager Sir Alex Ferguson claiming the striker wanted to depart in May, something the player has never officially said.
Rooney, who played under Moyes at Everton, has scored 197 goals in 402 appearances for United.
And captain Nemanja Vidic believed his team-mate was in his "best shape for five years" before suffering the injury.
Central defender Vidic did not fly to Bangkok on Wednesday because of sciatica but is likely to join the tour in due course.