Andy Johnson: QPR striker looks to repay club after injury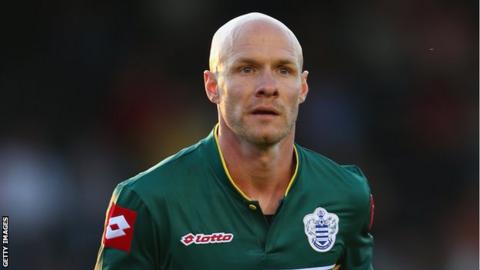 QPR striker Andy Johnson hopes he can repay the club by helping Rangers to win promotion back to the top flight.
The 32-year-old missed most of last season with a knee injury but made his return in a pre-season game at Exeter.
He told BBC London 94.9: "It's been a long time for myself. I am a loyal player and a lot of the staff here put a lot of work in to get me back fit.
"I feel I owe the club and want to help them get back in the Premier League, where they belong."
He added: "I have had a really good two weeks and not missed a session. I feel really sharp and really fit.
"There is still loads to come and it will take time as I have been out for a while, but it is coming back."
Former England international Johnson joined the R's on a free transfer last summer after leaving Fulham but only made four appearances before an anterior cruciate ligament injury ended his campaign in September.
Johnson said he was "delighted" to play the second half of QPR's match at Exeter on Thursday, which was the first fixture of their pre-season programme.
"It was a bit of a monkey off my back and something that was playing on my mind over the summer," he added.
"I got fit towards the back end of last season but it was frustrating that I couldn't play any games.
"It is not quite the same going on your holidays knowing that you are fit but haven't played.
"It has been a tough couple of weeks but it was about getting the cobwebs out from the back end of last season as well."
Johnson says it was difficult to see QPR relegated from the Premier League last season while he was on the sidelines and unable to contribute.
"It's horrible [being injured] and it's even worse when we were in the situation we were in last season," he said.
"I was at every game watching but there was nothing I could physically do about it.
"Being injured makes you stronger and I have got great people around me.
"QPR stood by me last season and I will stand by them this season. I am now looking to fire us back to the Premier League."