Robbie Rogers: Fans' attitudes stop gay players coming out
Last updated on .From the section Football662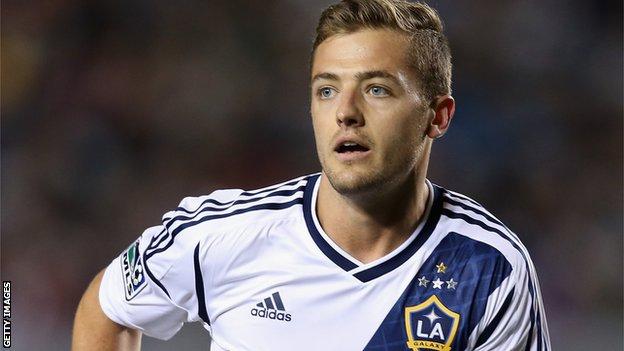 "I'm sure there are a lot of players over the years who have played in England, or wherever, and are too frightened to come out."
When Robbie Keane spoke to the New York Times in May, the Los Angeles Galaxy captain went on to explain where he believed that fear came from: "Maybe the fans are a bit more brutal in England than they would be here."
His side had just signed former Leeds United winger and United States international Robbie Rogers, the first footballer with experience of playing professionally in England to come out since Justin Fashanu publicly revealed his sexuality in 1990.
Fashanu's announcement contributed to his personal and professional demise, such was the homophobia he encountered.
It was not a path Rogers, revealing his sexuality on his website 23 years later, wanted to go down.
He promptly quit the game, saying remaining in football after publicly declaring your homosexuality was "impossible", before reversing his decision and joining Galaxy three months later.
Rogers, 26, admits he was not prepared to become a role model - he wanted to concentrate on football and not have to deal with the abuse he considered would be inevitable.
And it is that abuse that he, like Keane, who played for numerous big clubs in England and Scotland before moving to America, believes is preventing others from coming out.
"It's a little bit sad," Rogers told BBC Radio 5 live's Victoria Derbyshire. "Fans need to realise that what you're saying to players, especially when you are on that level…. you need to think it through before you start yelling at players."
But he does not believe the abuse stems from anti-gay sentiment: "For whatever reason, I don't think fans in England or fans in the UK are homophobic at all. They are just so passionate they will do anything to help their team get a little bit of an edge.
"The things they will say in a stadium does not reflect their character. But they take it just a little bit overboard sometimes. I learned that while I was in England."
Rogers left Leeds in January after he was released by mutual consent.
But he believes if he had spoken out about his homosexuality during his time at Elland Road, the club's fans would have accepted him.
"At the time I thought it wasn't possible," he said. "But looking back now I think the fans would have been so supportive of me.
"Leeds fans are crazy, passionate people but I think they would have supported me.
"They would have seen what I went through, and the struggles, and taken me under their wing.
"In the changing room, maybe it would have been awkward in the first few days with guys not knowing what to say. But I think they would have been supportive and loving.
"I think that goes for the whole club. I had a great time at Leeds. I don't think it would have been that big a problem."
Rogers, who has won 18 international caps for the United States, remains one of only two current professional footballers in the world to have come out. Swede Anton Hysen, the son of former Liverpool defender Glenn, is the other.
Yet despite his initial fears about returning to football, Rogers says the decision was the right one for him - and the game.
"I was afraid just to go back to training. I was worried how I would be treated in the changing room and in stadiums," he said.
"I had a lot of fear, but I missed football. I realised that I had an opportunity to play a sport I loved but also to really help people.
"But people at Galaxy were amazing. The first day it was a little awkward with people walking on egg shells.
"After the first few days I would say it was totally fine. I was treated the same as everyone else. Travelling with the team has been great and I've yet to hear anything homophobic.
"But even if I do, I'm at a place in my life where I would feel more bad for them. I just don't care.
"It's about the exposure, about being in locker rooms, in stadiums, and people realising it's not a big deal and they are just footballers.
"I am the first gay footballer that's been out with LA Galaxy and for me to be doing the daily things like going to the training ground and travelling, that's where education comes and people realise it's not a big deal."
Earlier this year, Minister for Sport Hugh Robertson backed calls for professional football clubs to do more to combat homophobia.
And Rogers, who made nine appearances for Stevenage while on loan from Leeds last season, says that first step of having an openly gay player in the Premier League would help tackle homophobia in football.
"That needs to happen in England. Guys need to just come out and continue to play. That's the only way forward to change," he said.
"I think it's about gay players coming out. I'm not asking anyone to or pressuring anyone to, but I think it's going to take gay footballers to come out to help.
"I have no idea when someone will do that. I hope soon."