AFC Bournemouth: Stephen Purches optimistic of recovery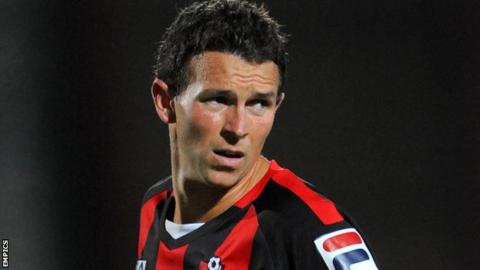 Bournemouth defender Stephen Purches says he is cautiously optimistic he will be able to get back to match fitness despite over a year out.
The 33-year-old, who recently took up a player-coach job at the club, has not played since suffering a double leg fracture at Rochdale in February 2012.
"It's achievable," he told BBC Radio Solent. "Being out so long, it's hard.
"It's about easing my way back in and getting back up to the pace of stuff and that's going to take some time."
He added: "I can only just keep going progressively and tick boxes and move on to the next thing, setting myself little goals.
"It's learning to walk again. I'm at the stage where I'm sprinting, and I can kick the ball now.
"Now it's combining everything into a match situation, which is a bit different when you've got 10 amazing players around you that haven't had the same problems as you."
The former West Ham and Leyton Orient player broke his tibia and fibula in a tackle with Rochdale midfielder Jason Kennedy, and Purches has admitted he thought his career could be over shortly after the blow.
"As soon as I went in for that tackle, I knew I'd be in trouble, but I wasn't expecting to come out of it like that," he commented.
"Straightaway things go through your head - you're thinking 'is that the end?'
"It's quite hard talking about it sometimes because it does take you back to it. I knew it was a bad one and I haven't gone out of my way to watch it back."
Purches signed for Bournemouth in 2000, and after a three-year spell at Leyton Orient from 2007, he returned to the Cherries in 2010.
The length of his time at the newly promoted club has been rewarded with a testimonial against West Ham - the club he began his career with - on Saturday.
And Purches says that the progress the club have made in his time there has been remarkable.
"It's amazing how 10 years go just like that. There have been some amazing highs and some lows as well," he said.
"I've been fortunate to be a part of the club that came from the old stadium until now.
"You turn up and it looks like a Premier League club now. It's unrecognisable from what it was."