Dutch businessman's pen pal query led to place on Swansea City board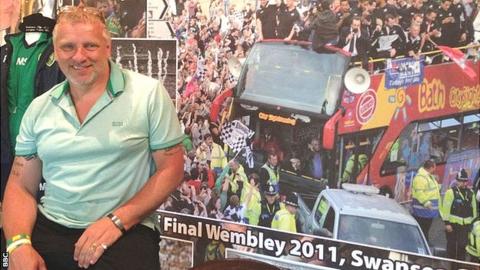 How do you know when a football club has 'made it'?
Is it when they're promoted to the Premier League, or win a major trophy like the Capital One Cup?
Or is it when they're immortalised on some very unique wallpaper on sale only in Holland?
Swansea City tick all those boxes, the latter thanks to a man with a special story.
John Van Zweden is born in Den Haag in the Netherlands. Today he is a Swansea City fan and a member of the club's board of directors.
He was part of the take over that saw Tony Petty ousted as chairman in 2002 and began the club's remarkable rise.
Swansea's success is well documented and is certainly no fluke, but Van Zweden's alliegence to the club is the result of a polite request and good dose of chance.
"I was 16 years of age, and for my birthday my father took me to a game in London which started at 12 o'clock," said Van Zweden.
"In the afternoon Swansea City played away at Fulham, so that was the second game I saw that day.
"My English wasn't very good so my teacher asked us to find a pen pal in the UK so we could improve our English.
"I'd seen Swansea play so I wrote to them. They published my letter in a programme for the Cardiff game. I had two replies, one of which was David Morgan who is my best friend in Swansea.
"And 11 years ago he asked me if I would pay some money to help save the football club."
It turned out to be a shrewd investment, but initially Van Zweden was derided in Holland for his involvement.
"Once we were an ugly duckling," he said.
"I put money in and people said 'look at that idiot'. They tell a different story now."
Now it seems to be a story that everyone wants to tell.
The team's every movement is followed by TV crews from both Holland and Denmark, as well as a crowd of Dutch supporters with new record signing Wilfried Bony the number one target for autograph hunters.
"When we beat Reading to get promoted I said to my wife that our lives would change for ever," Van Zweden said.
"The next morning we were woken up by Dutch radio at six o'clock in the morning."
Van Zweden names that playoff final as his favourite Swans game of all time: "We were crying every single minute," he said.
His love for the club is clear, cemented by the shrine set up for both the Welsh side and Den Haag in a museum that he's created above his wallpaper shop on the outskirts of the City.
All types of memorabilia can be found from match-worn shirts to programmes.
"I think I'm missing only about 150 programmes since 1925," Van Zweden added.
"In Den Haag there's a big wallpaper print of both clubs' stadiums and we have that in the shop. It's not in stock, but people can come in and ask for it and we will print it."
Van Zweden may have to make more room for memorabilia with a Europa League campaign to look forward to this season.
"Where will this finish? What's the ultimate dream?" he said.
"There were so many dreams in the past, I never expected us to be in the Premier League, that was the ultimate dream."
The cliché is about papering over the cracks, but this is far from it.