Hearts in administration: Three parties submit formal bids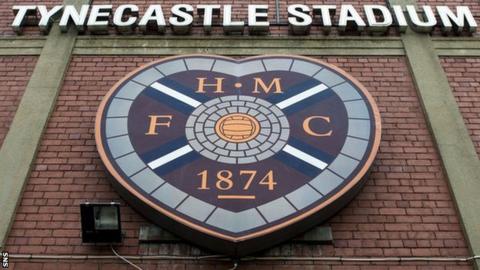 Three parties have submitted formal offers to take over Hearts, administrator BDO has announced.
A deadline of 17:00 BST on Friday had been set for bids, with
"To preserve confidentiality, unless disclosed by the bidder themselves we will not be naming the parties," said BDO's Bryan Jackson.
"Under the right guidance, the club has the potential to be successful both on and off the pitch and it is encouraging to see that a number of prospective owners have clearly recognised this.
"In the meantime, we will continue to run the club and support the manager in his preparations for the forthcoming season.
"We all want the club to exit administration as quickly as possible but it's important not to get carried away: we're still much closer to the start of the process of concluding a sale rather than the end.
"We ask fans, players and staff for their continued support and patience."
Hearts will start season 2013-14 with a 15-point deduction, which was incurred when the Edinburgh outfit entered administration.
As well as the Foundation of Hearts, HMFC Limited - backed by American group Club 9 Sports - had been expected to submit a takeover bid.
The club has debts of £25m - owed to companies formerly owned by Vladimir Romanov, who first invested in the club in 2005.
Ukio Bankas, who are also in the hands of administrators, is owed £15m and Tynecastle Stadium is held as security for the liability. The Lithuanian bank has a 29.9% shareholding in Hearts.
An administrator with the power to sell UBIG's majority shareholding will only be appointed if the investment company's bankruptcy is formalised in Lithuania. Hearts owe UBIG £10m.
An exit from administration via a company voluntary arrangement (CVA) can only be achieved if those due 75% or more of the total debt accept a pence in the pound offer.
"Further discussions will now take place with the bidders and also with the legal representatives of the administrators of AB Ukio Bankas," added Jackson.
"We would then hope to be in a position to name a preferred bidder in due course. At this stage we cannot say how long that process will be.
"As we have said already the delivery of a CVA solution will need the support of the other major creditor and shareholders and there may be a delay in securing that support while administrators are appointed to those entities.
"Therefore the sale process may take some time before a deal can be concluded and the club exits administration."